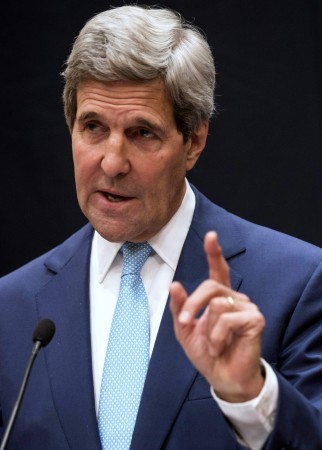 United States Secretary of State John Kerry on Monday said that both India and US will work together in their fight against terrorism apart from continuing their efforts to strengthen bilateral relationships between the two nations.
Kerry did the groundwork for the bilateral conversations between Indian Prime Minister Narendra Modi and US President Barack Obama, who is scheduled to visit India for the Republic Day celebrations.
Kerry had four issues on the agenda – change, defence, civil nuclear cooperation and economic partnership – that Obama and Modi will take up for discussion. Besides, they will also discuss key political and security issues, according to a PTI report.
"We are committed to working with India to reach a landmark climate change agreement in Paris at the end of this year and I know this will be a topic of President Obama's conversation with the Prime Minister," Kerry said at the 7th Vibrant Gujarat Summit in Ahmedabad.
"I am convinced that India and United States will create a healthier, more secure and prosperous future and not just for one another but indeed be able to have an impact on policies that will affect the world," he added.
Kerry also said that both the countries are already working towards strengthening partnership to combat terrorism piracy and proliferation of weapons of mass destruction.
"We are also working together to safeguard maritime security, freedom of navigation and overflight throughout the region. We are strengthening our partnership to combat terrorism, piracy and the proliferation of weapons of mass destruction... We are committed to deepening of regional dialogue on key political and security issues," Kerry said.
Kerry came to India on Sunday on a two-day visit to attend the 2015 Vibrant Gujarat Summit being held at Mahatma Mandir in Gandhinagar.