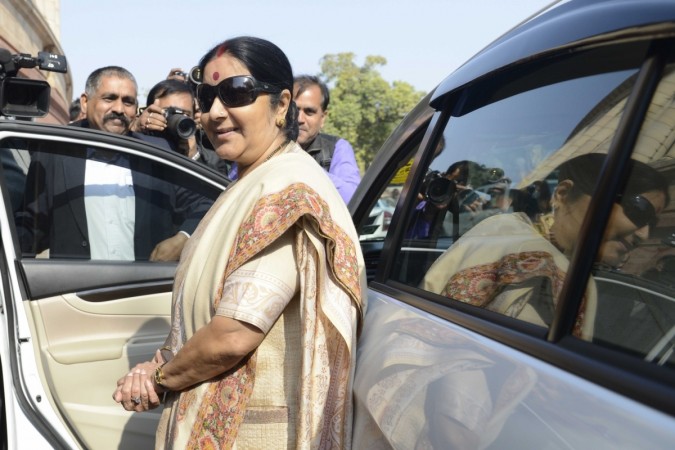 An Indian national who was in captivity in Libya since March 2016 has been released, External Affairs Minister Sushma Swaraj tweeted on Wednesday.
Regi Joseph, 43, a resident of Kerala's Kozhikode, was working in Libya since 2014. He was living in Libya with his wife, Shinuja, who is a nurse at TMC Hospital in Tripoli, and three children near the capital where he worked as a computer engineer. Joseph was abducted from near his workplace in Souk al Jumaa, the Asian News International reported.
The minister also tweeted saying that "this has been possible with the efforts of Mr. Azar A.H. Khan our Ambassdor in Libya [sic]."
"Indian Embassy in Libya has secured the release of Regi Joseph - an Indian national from Kerala. He was abducted in March this year," Swaraj had tweeted.
Joseph was last in touch with his wife on March 31 when he texted her that he would be late in coming home, Indo-Asian News Service reported. Some reports said that he was produced in a court in Libya in May, when he was allowed to meet his family.
Swaraj had also tweeted saying that this was a "delicate matter" and that the MEA is doing everything in its power.
The minister earlier advised Indians against travelling to the conflict ridden country, and urged the Indians already living there to return. However, the government on May 20 banned Indians from travelling to the African nation completely, until further notice.
"In view of prevailing security situation in Libya, security threats and challenges to lives of Indian nationals in Libya, the Government of India has decided to impose (a) travel ban on Indian nationals planning to travel to Libya irrespective of the purpose. All Immigration authorities have been notified in this respect," the Ministry of External Affairs statement had read.