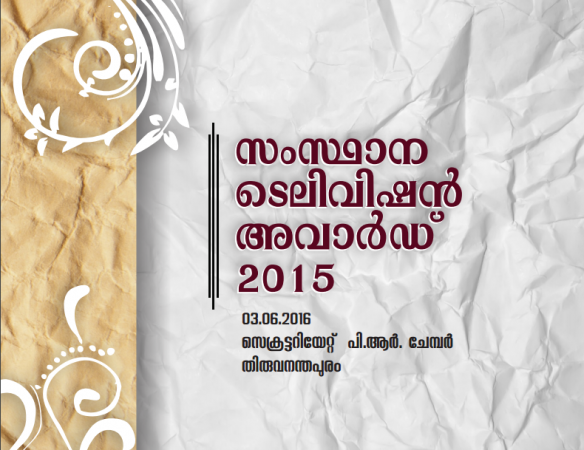 The winners of the Kerala State Television Awards 2015 have been announced by Kerala Chalachitra Academy on Friday, June 3. The winners were selected by the jury members including, Chairman Nemom Pushparaj, Sona Nair, Anil Thomas, Salam Bappu, VIjayakumar and CR Rajamohan.
Malayalam entertainment channel Flowers TV has bagged as many as six awards, and the serial "Eshwaran Sakshiyayi," directed by KK Rajeev, has won five awards in the categories of Best Serial, Dubbing Artist (Female), Second Actor, Second Actress and Editor. The channel's comedy show "Comedy Super Night," hosted by actor Suraj Venjaramoodu, has been selected the best television show.
Meanwhile, Mazhavil Manorama's "Thattem Muteem" has bagged the award for the best comedy programme and actor Nazeer Samkranthi, who plays Kamalahasan in it, has been selected the best comedian. Munshi Baiju will be awarded the best actor for his performance in the serial "Nadakandhyam" on Media One. Actor Govind Padmasoorya has also won the state award for the best anchor of an educational programme (First Family First - Asianet).
Check out the winners' list here:
Best serial – Eshwaran Sakshiyayi – Flowers TV
Best second serial – Kaatukurangu – Amrita
Best tele-film short (less than 20 minutes) – Nadakandhyam – Media One
Best tele-film long (more than 20 minutes) – Bomzhoor Mayyazhi
Best TV Show – Comedy Super Night – Flowers TV
Best comedy programme – Thateem Muteem – Mazhavil Manorama
Best comedian – NNazeer Samkranthi – Thateem Muteem – Mazhavil Manorama
Best dubbing artist (male) – Rajesh – Muripaadukal – Goodness TV
Best dubbing artist (female) – Anandavalli – Eshwaran Sakshiyayi – Flowers TV
Best short film for children – Maramachan – Jeevan TV
Best director – EM Asharaf (Bomzhoor Mayyazhi) and KK Rajeev (Ishwaran Sakshiyayi)
Best actor – Munshi Baiju – Nadakandhyam – Media One
Best second actor – Prem Prakash – Eshwaran Sakshiyayi – Flowers TV
Best actress – Janaki Nair – Rival Life
Best second actress – Divya Prabha – Eshwaran Sakshiyayi – Flowers TV
Best child actor – Aromal – Kunjedathi – Kairali TV
Best cinematographer – Fausia Fathima – Agath Nayaga
Best editor – Shivasankar M – Eshwaran Sakshiyayi – Flowers TV
Best music composer – Vishwajith – Aathmeyam – Amrita TV
Best sound engineer – T Krishnanunny – Rajakumaran
Best art director – Santhubhai – Kalpanthakalam
Check full winners' list HERE