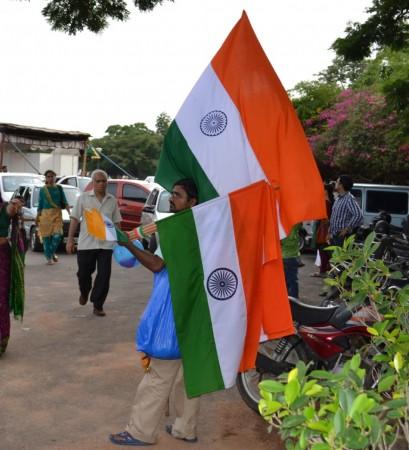 In an incident that reeks of growing Taliban-like radicalism, a school in Kerala had to edit out the Vande Mataram song from its Independence Day programme on Friday, following threats from a political party that it is against the religious beliefs of a community.
The school management also reportedly asked students to not do the 'namaste', a common gesture of respect in India, in fear of threats from the Social Democratic Party of India (SDPI).
According to Hindustan Times, the TKM Centenary School in Kollam was to have a dance planned on Vande Mataram, which is a popular song played as a patriotic symbol on days such as the Independence Day. However, the school management allegedly replaced the song with an orchestra to avert any incident, though the principal claims that the song was removed so as not to "stress" the students.
However, the SDPI claimed that they had asked the school to not play the song.
"We approached the school management after a number of parents complained that some words in Vande Matraam and the gesture 'namaste' were against their religious belief. We only requested the school to respect their sentiment," SDPI leader AK Salahuddin told HT.
SDPI was formed in 2009 as a political wing of the Popular Front of India, and has had a controversial run in Kerala, with the state police often raiding their offices on suspicion of arms and weapons stockpiling by the members. PFI and SDPI were also chargesheeted by the National Investigation Agency, indicating their role in conducting arms training camps, according to an India Today report.
There was controversy over Vande Mataram in 2009 as well, when Muslim outfit Jamait-e-Ulema Hind had issued a fatwa against the song and had banned Muslims from singing it, citing that some of the verses go against the tenets of Islam, as reported by The Times of India.