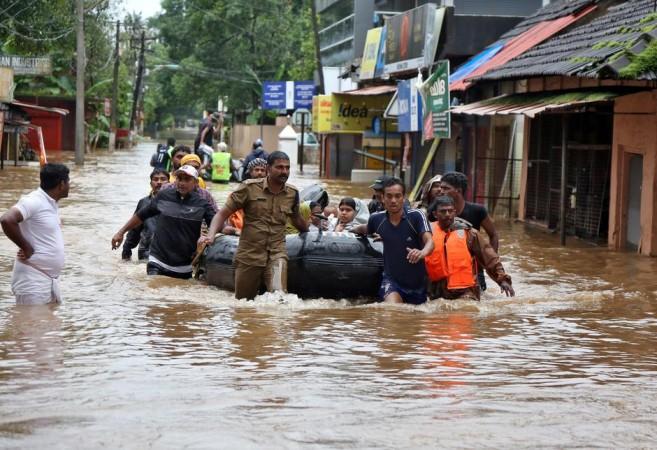 Intense monsoon rains wreaked havoc in Kerala including Idukki, Malappuram, Wayanad and Kozhikode districts, leaving at least 20 dead and hundreds stranded. Normal life in Kerala came to a standstill due to heavy rainfall for the past few days as the state got battered by heavy rainfall. The Indian Meteorological Department (IMD) has issued a Red Alert in Idukki, Malappuram and Kozhikode districts and also predicted heavy rainfall in the state till August 14.
Kerala Chief Minister Pinarayi Vijayan has sought the help of Indian Army and an additional 13 more units of the National Disaster Response Force (NDRF) for the relief and rescue operations. As heavy rains pounded several parts of the state leading to a flood-like situation, more than 22,000 people have been evacuated to 315 relief camps.
A massive landslide has been reported from Meppadi in the hilly Wayanad district. Around 40 people are suspected to be trapped under the debris. As of now, only three have been rescued. Also, a temple, church, couple of houses and a few vehicles have come under the soil and many people are feared missing.
Live Updates
2019-08-0914:22 (IST)
WATCH | Rain fury batters Kerala, 23 dead
2019-08-0914:08 (IST)
Indian Coast Guard deploys 16 teams
The Indian Coast Guard has deployed 16 teams on high alert. Two teams had already rescued 550 people in Kozhikode's Beypore and one more team is at standby.
2019-08-0913:37 (IST)
Indian Navy opens its naval air station INS Garuda
Navy spokesperson Captain DK Sharma took to Twitter to announce that the Indian Navy has opened its naval air station INS Garuda for civil aircraft operations in Kochi due to non-availability of the civilian airport there.
2019-08-0912:21 (IST)
Rahul Gandhi dials PM Modi on Kerala floods, assured Centre's help
Former Congress president and Wayanad MP Rahul Gandhi spoke to Prime Minister Narendra Modi today, seeking help for people affected by flash floods in Kerala following incessant rainfall.
2019-08-0912:17 (IST)
Rahul Gandhi monitors Kerala floods closely
The flood situation in my parliamentary constituency, #Wayanad is grim. I'm monitoring the situation closely & have spoken to the Kerala CM and key Govt officials to expedite relief.

I will be reaching out to PM Modi as well to brief him & request Central Govt. assistance. pic.twitter.com/HWN8LXgE4h

— Rahul Gandhi (@RahulGandhi) August 8, 2019
2019-08-0912:14 (IST)
Landslides, flash floods kill 17 in Kerala
Landslides and flash floods in Kerala have killed at least 17 people including four-month-old infant during the last two days. Heavy landslides were reported in Wayanad and Idukki districts where more than 100 persons have been rescued. The Central Water Commission has issued a flood warning in the Northern districts.
2019-08-0912:06 (IST)
Kerala floods: CM Pinarayi Vijayan conducts review meeting
Kerala Chief Minister Pinarayi Vijayan has conducted a review meeting of the disaster management activities of Kerala Floods.
2019-08-0911:38 (IST)
2 killed in Wayanad landslide
Two people were killed in landslides that struck the Wayanad district. Their bodies have been recovered from Meppadi.
2019-08-0911:22 (IST)
Watch | How floods are wreaking havoc in Kerala
2019-08-0910:54 (IST)
Pics: Water enters houses in Muvattupuzha town of Ernakulam district
Kerala floods: Water enters houses in Muvattupuzha town of Ernakulam district. The region is reeling under flood due to rainfall.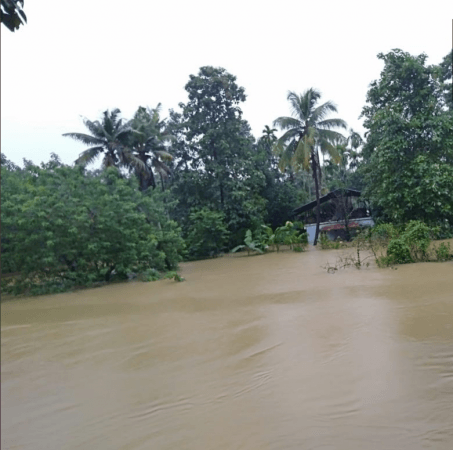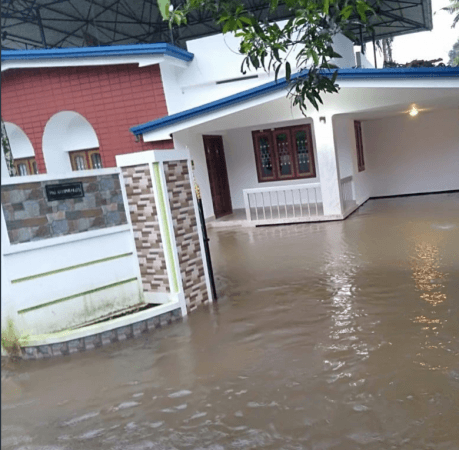 2019-08-0910:43 (IST)
Kerala houses submerged in floodwater
Houses submerged in floodwater in Aluva's Kuttamassery area in Kochi, following heavy rainfall in the region.
2019-08-0910:18 (IST)
Flooded streets in Kozhikode's Areekode town
Streets flooded in Areekode town of Kozhikode district due to heavy rainfall in the region.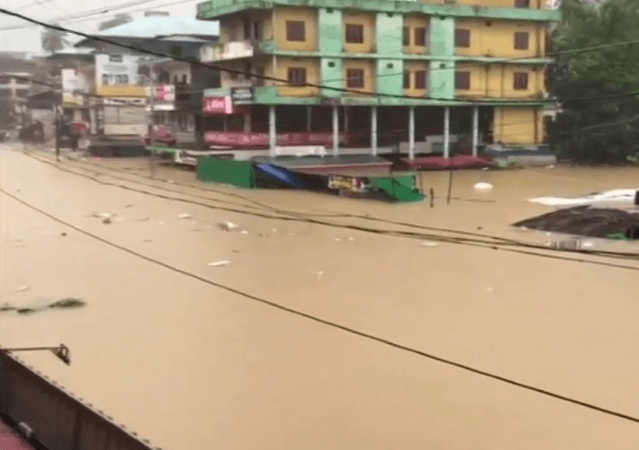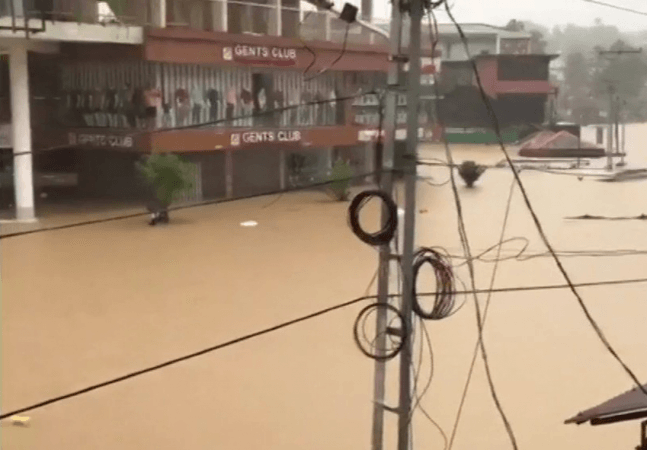 2019-08-0910:14 (IST)
Landslide strikes Wayanad, 100 rescued
A landslide occurred in Puthumala in Wayanad on Thursday. Over 100 people have been rescued by the NDRF teams from Puthumala near Meppadi in Wayanad. Rescue operations are still underway.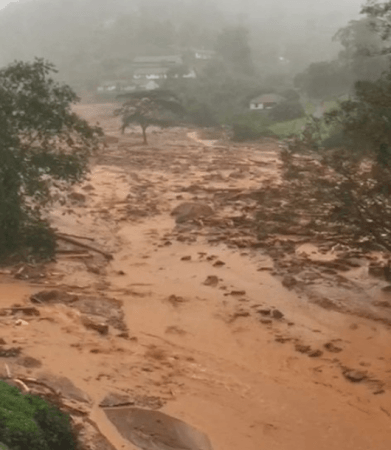 2019-08-0910:09 (IST)
WATCH | Heavy waterlogging in Kochi International Airport, flight operations stopped
Operations in the Cochin International Airport have been suspended till 3 pm on Sunday, August 11 due to heavy rains. Earlier, the flight operations were stopped till 9 am today, but it had to be extended after the apron area at the Kochi airport got flooded, Cochin International Airport Ltd (CIAL) posted on its Facebook page.
2019-08-0910:05 (IST)
The overflowing rivers
Major rivers like Manimala, Meenachal, Moovattupuzha, Chaliyar, Valapattanam, Iruvazjinjpuzha and Pamba are have risen.
2019-08-0910:04 (IST)
Trains cancelled, delayed
Several trains including the New Delhi Rajdhani, Maveli Express, Guruvayur Express are delayed due to rains. Passenger train running between Alappuzha and Ernakulam (and back) has been cancelled. Train traffic on the route has been delayed after a tree fell between Alappuzha and Mararikulam.
2019-08-0909:48 (IST)
The Emergency phone numbers
State Control Room: 0471 2331639 / 0471 2333198
State Toll-free number: 1070
State Emergency Operation Centre: 9446568222
2019-08-0909:47 (IST)
Karnataka to Kerala routes closed due to rains, landslides
Karnataka to Kerala routes via Mysore and Kodagu has been blocked due to severe rainfall.
The route from Karnataka to Nilgiris is also blocked.
Karnataka - Western Maharashtra routes submerged in water.
Out of the 14 Ghats, which link coastal Karnataka with interior Karnataka, around 10 are closed due to landslides.
2019-08-0909:41 (IST)
WATCH | Bharathappuzha river in spate in Kerala
A Twitter user tweeted a video of the Pattambi bridge in Palakkad district getting inundated by the Bharathappuzha river.