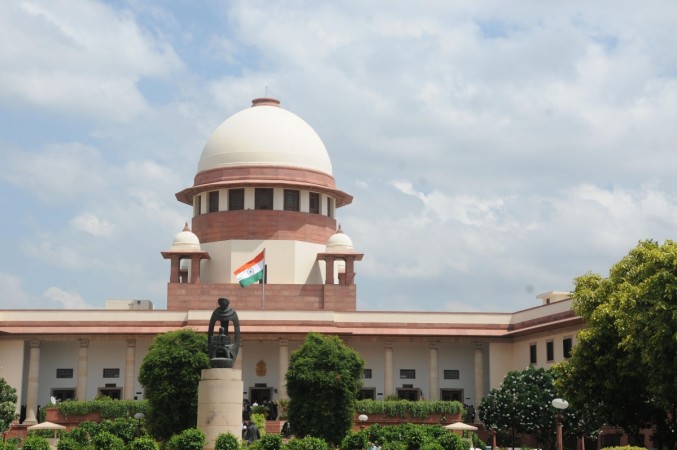 Kerala woman Akhila, who is also known as Hadiya, arrived at Chief Justice of India (CJI) Dipak Misra's courtroom for hearing on Monday. Hadiya, who is at the centre of the love jihad controversy was scheduled to appear before the Supreme Court today to give her statement.
The love jihad controversy spiralled when the 24-year-old Hadiya converted to Islam before marrying a Muslim man named Shafin Jahan. Even though Hadiya says that she changed her religion of her own volition, her family has claimed that she was forced to convert to Islam. Hadiya's father approached the Kerala High Court in May, where the court ruled in the parents' favour and annulled her marriage to Jahan.
Jahan then moved the Supreme court and said that it was an insult to the independence of women in the country.
The hearing in the SC is set to be an open court interaction, wherein Hadiya will be presenting her side of the story. A Supreme Court bench, comprising Chief Justice Dipak Misra and Justices AM Khanwilkar and DY Chandrachud will hear the case.
Here are the live updates of the hearing:
5:36 pm IST: Kerala 'love jihad' case hearing to continue in Supreme Court tomorrow.
5: 30 pm IST: The Supreme court orders Hadiya's college dean to be her guardian.
5: 25 pm IST: I want to be true my faith and go back to my husband: Hadiya tells SC.
5:20 pm IST: "I have endured mental harassment and been in unlawful custody for 11 months. I want to go back to my college and continue my education," Hadiya told the Supreme court
Reports state that Hadiya also told that she wants her husband to be her lawful guardian in case she decides to return to college.
5:15 pm IST: When the court asked Hadiya if she wanted to continue her studies on state expenditure, she replied with: "My husband is there to take care of my expenses, why should I study on state expenditure?"
'Do you want to continue your studies on state's expense?' asks CJI. Hadiya replied 'I want to but not on state's expense when my husband can take care of me'

— ANI (@ANI) November 27, 2017
5:10 pm IST: Supreme Court Justice Khanwilkar says that in a normal case, we would have heard the girl and decided, but this is an unusual case.
4:55 pm IST: I want my freedom, Hadiya tells Supreme Court when asked by Justice Chandrachud about her dreams for the future, according to reports.
4:46 pm IST: CJI Dipak Misra says, 'never seen such a case in my life,' as Hadiya's testimony begins.
4:37 pm IST: "Initially material submitted by NIA should be looked into, and then she should be talked to. There's an operational apparatus existing for conversion," Counsel for Hadiya's father says in SC.
4:34 pm IST: CJI Dipak Misra asks NIA counsel: "At what stage can personal liberty be suspended by court?"
"If it is established that the consent of the individual is not voluntary... what should the court do?"
4:30 pm IST: The Supreme Court bench questions NIA if the larger issue of indoctrination needed to be de-linked from Hadiya's case.
4:18 pm IST: NIA submits fresh report, underlines hypnotic counselling being used by certain people belonging to particular groups to entice women to convert to Islam.
Kerala 'love jihad' case: The National Investigating Agency (NIA) submitted a 100-page probe report, in the case in Supreme Court

— ANI (@ANI) November 27, 2017
'Hypnotic counselling' and 'Neuro-linguistic programming' are methods used by radical organisations to entice young women to convert to Islam and marry Muslim men, the National Investigation Agency (NIA) has claimed, according to News18 reports.
4:14 pm IST: Supreme Court proceeding in the love jihad case have begun. All three judges of the Supreme Court have assembled in the court.
Kapil Sibal and Indira Jaising are lawyers for Shafin Jahan – Hadiya's husband, while Additional Solicitor General Maninder Singh is appearing for the Centre.
Advocate Shyam Divan and Madhavi Divan are appearing for Ashokan, Hadiya's Father.
4:10 pm IST: Shafin Jahan's lawyer echoes Kapil Sibal's remarks, says Hadiya's statement is more important than NIA's 'allegations.'
4:00 pm IST: Kapil Sibal, appearing for Hadiya's husband Shafi Jahan, tells SC that when Hadiya is present at here, then the court should listen to her, not the NIA and that she is entitled to make decisions of her life.
3:50 pm IST: NIA tells Supreme Court that Hadiya case not an isolated one, it is part of several similar cases of love jihad.
The investigative agency also said that Hadiya was not allowed to meet her father for more than seven months.
3:40 pm IST: A three-judge bench starts hearing the Hadiya jihad case.
Senior advocate and Congress leader Kapil Sibal says: "I am really saddened Today, Instead of asking Hadiya on what she want, we are taking about the venom filled in news channels."
3:30 pm IST: Senior Advocate Shyam Divan pleads for incamera proceedings.
"There is highly communally charged atmosphere, there could be some threats,and kindly revisit the decision for open hearing," Divan said.
3:20 pm IST: Supreme Court deciding if the hearing will be in-camera or in open.
Hadiya says she converted at her own will
The National Investigation Agency (NIA) had submitted a status report to the apex court last week, wherein it had attached Hadiya's statement on her alleged unlawful indoctrination to Islam.
In the report, Hadiya refuted claims of any pressure to convert to Islam or marry Jahan.
Before leaving for Delhi on Saturday, when she was confronted by the media Hadiya shouted out saying: "I am a Muslim. I have embraced Islam of my own free will. Nobody has compelled me to become a Muslim. I want justice. I want to live with my husband."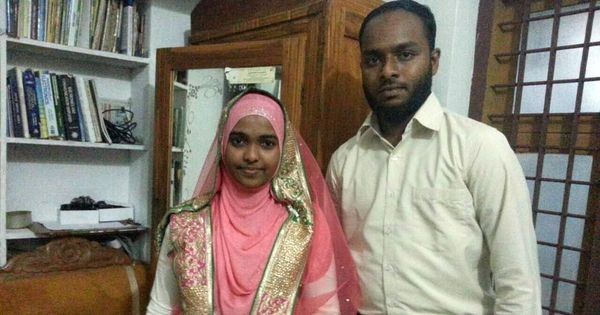 Family says Hadiya is brainwashed
Counsel C Rajendran, who is representing Hadiya's father, said that what Hadiya said at the Kochi airport should not be taken into consideration as she has been "highly indoctrinated and brainwashed"
Her father KM Ashokan had also alleged that besides Hadiya being unlawfully indoctrinated into Islam, she was also held captive by her husband.
"Hadiya behaves cruelly to her parents, abuses them... which shows her behaviour is not normal. What she told the media before cannot be taken as being voluntary", Rajendran was quoted as saying by the Deccan Chronicle.
Hadiya has been living with her parents after the Kerala high court had annulled Hadiya's marriage in May 2017.
'Hypnotic counselling' and 'Neuro-linguistic programming' are methods used by radical organisations to entice young women to convert to Islam and marry Muslim men, the National Investigation Agency (NIA) has claimed, News18 reports.
In a fresh report submitted in the Supreme Court, the NIA has underlined that hypnotic counselling is a technique employed by certain people belonging to particular groups. According to NIA sources, there are trained people who use hypnosis to influence vulnerable women. These non-Muslim women are then "drifted off to an altered state of mind where they are made to believe in doing what the counsellors wish".