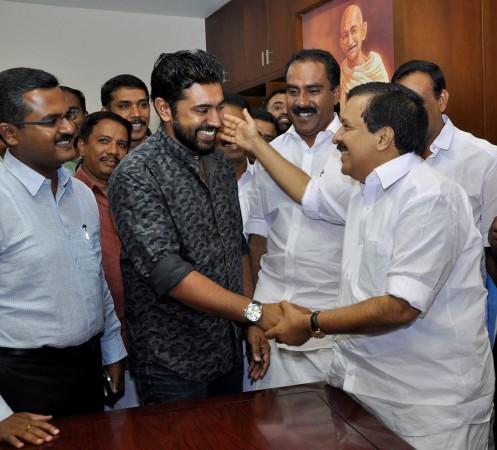 Nivin Pauly's latest Malayalam movie "Action Hero Biju," helmed by Abrid Shine, has been garnering positive response from all quarters, and Kerala Home Minister Ramesh Chennithala is the latest person to have lauded the makers of the cop-centric movie.
The Home Minister had invited Nivin and Abrid to the Kerala Secretariat to convey his appreciation for making a realistic movie on the life of police officers of the state. "Normally the Kerala police force are portrayed as villains or comedians in movies, now as a Home Minister, I thank the Action Hero Biju's director and Nivin Pauly for showcasing the positive side of the officers," Ramesh said to media on Wednesday. The Home Minister, who couldn't watch the movie yet promised that he will find time to watch it with his family.
Ramesh also praised the makers of the movie through a Facebook post. "Nivin Pauly and other crew members of 'Action Hero Biju' had visited me today. Most often, the police officers are shown as villains or comedians in movies, but 'Action Hero Biju' is different as it narrates the life of dedicated cops. Most of the movies fail to present the work pressure, commitments and administrative capacity of the cops. However, this movie is different and my hearty congratulations to the actors and other members of the film," (translated from Malayalam) Ramesh wrote on Facebook while sharing the photo of his meeting with Nivin.
"Action Hero Biju" is not an usual action thrilling cop story, instead it is a simple cop story that narrates the real life incidents and cases handled by police officers in their day-to-day life at a Janamaithri Police Station in Kochi, Kerala. The Abrid Shine directorial, produced by Nivin under the banner of Pauly Jr. Pictures, has been making good business at the box offices in India and abroad.
Watch the video below: