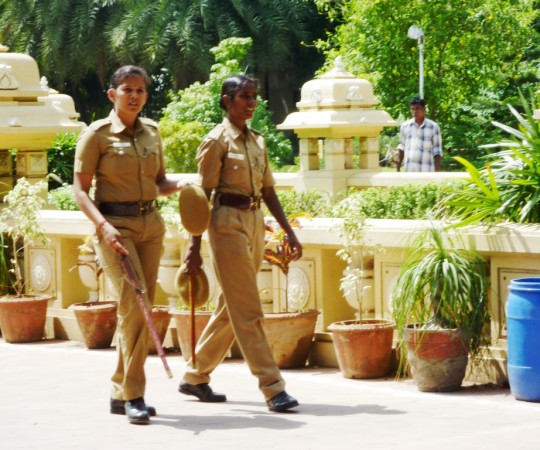 The Kerala Police on Monday deployed three women patrol teams, called Pink Patrol, in Thiruvananthapuram. The teams, which have been formed to improve women's security in the state, were launched by Kerala Chief Minister Pinari Vijayan and his wife Kamala Vijayan.
The police will be adding more such teams in other districts in the coming days. The patrol teams comprise women police officers. The cars are equipped with GPS tracking devices and cameras. All information regarding women's safety will be sent to the the Pink Patrol teams from now on, said DGP Loknath Behera.
To call the Pink Patrol, one needs to dial 1515. The teams will be patrolling public places, schools, colleges, places of worship and women's hostels.
This Pink Beat team started functioning from June 1. The members of the team are specially trained female officers, who will be on duty from 8 am to 7 pm. The teams will monitor security in public transport buses, at bus stops, crowded areas, schools and places of worship. City Police Commissioner G. Sparjan Kumar is supervising the team.
Each team, which will comprise two officers, is responsible for making sure that women are not harassed in public places and seats reserved for them and senior citizens are not taken up by others.
Recently, a remark made by Kerala bureaucrat and IPS officer Rishiraj Singh was ridiculed by Keralites and caused embarrassment to the government. He had said that any man who looks at a woman for more than 14 seconds would be booked.
Pink Patrol cars fully fitted with modern technological equipment to face any emergency, will have only women police officers.

— CMO Kerala (@CMOKerala) August 15, 2016
Calls to Pink Patrol will be tracked through GIS/GPS to ascertain the exact location and provide quick assistance. Contact 1515. — CMO Kerala (@CMOKerala) August 15, 2016
A 1st- #Kerala's #pink police patrol team of 31 #police #women to attend to women in distress in #Trivandrum #Kochi pic.twitter.com/gZkKWVYQze

— Sneha Koshy (@SnehaMKoshy) August 15, 2016