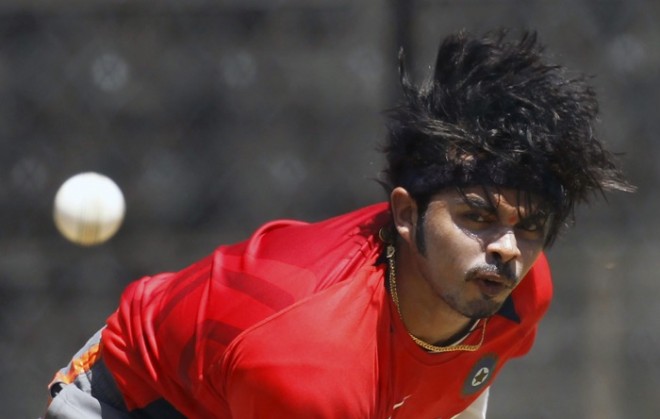 Former cricketer Shanthakumaran Sreesanth was named the Bharatiya Janata Party (BJP)'s candidate from Kerala's capital Thiruvananthapuram Friday. He was also formally inducted into the party during a BJP's Central Election Committee (CEC) meeting.
Sreesanth had been banned by the Board Of Control For Cricket In India (BCCI) and a criminal case was lodged against him in 2013 for his alleged role in match-fixing during the Indian Premier League. He, along with two other Rajasthan Royals players Ajit Chandila and Ankeet Chavan, were arrested by the Delhi Police and charged under Maharashtra Control of Organized Crime Act (MCOCA). Sreesanth's name was cleared July 2015 as a trial court said that there wasn't enough evidence to charge him, the Indian Express reported.
"(The) discussion took place in the meeting keeping Kerala's best interest in mind...Sreesanth will be contesting from Thiruvananthapuram seat," Union Health Minister JP Nadda was quoted as saying by NDTV Friday.
Sreesanth was quoted by the Times of India as saying that as he has been cleared from the match-fixing charges and he doesn't think that the opposition parties would attack him on the issue.
"Whenever I thought about joining politics I always thought about doing so with the BJP," he said during a BJP press conference. He also said that he would try to "change the face of Kerala...and bring the youth into politics."
Nadda, while declaring the first list of 51 names, said that "lawyers, doctors, engineers, professors and trade union leaders...they are incorporated in the list." He also added that people in Kerala are pro-BJP as they are fed up with Congress-led UDF and left-led LDF. Attacking the two parties, he said that both are involved in non-performance, communalism, and corruption.