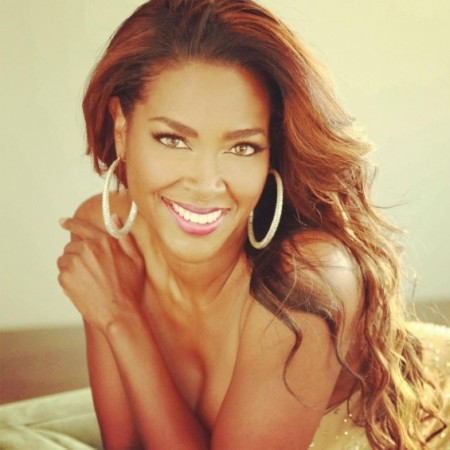 1993 Miss America pageant winner Kenya Moore revealed that she had previously turned down the opportunity to date Kanye West before the rapper met Kim Kardashian.
It seems like Kim Kardashian isn't the only woman rapper Kanye West has fancied. If rumors are to be believed, reports have it that the rapper had showed a keen interest in dating 1993 Miss America pageant winner Kenya Moore in the past. But Moore turned him down because she was already seeing someone else.
"He was really sweet when I met him. He seemed very humble. I thought he was a great guy," the 1993 Miss America pageant winner explained to Access Hollywood. "He walked over, he was very humble. He spoke to me. He was super nice. Of course, we didn't date, because I was with someone. He was a very charming guy, I can say that. I was very charmed."
Moore also said that West was very respectful and that's what added to his charm. She also revealed that she's happy that he's found his someone special and was overjoyed when she learnt of his engagement to Kardashian.
'I'm very happy that he's found love and that him and Kim are having a good relationship,' Kenya said.
West and Kardashian got engaged last month. The proposal couldn't have been more romantic. It was planned as a gift for the reality star's 33rd birthday. West rented the stadium that's home to the San Francisco Giants, hired a 50-piece orchestra, and paid for fireworks to illuminate the San Francisco sky. Kardashian will reportedly take the rapper's surname after marriage and will use her current surname as a middle name.