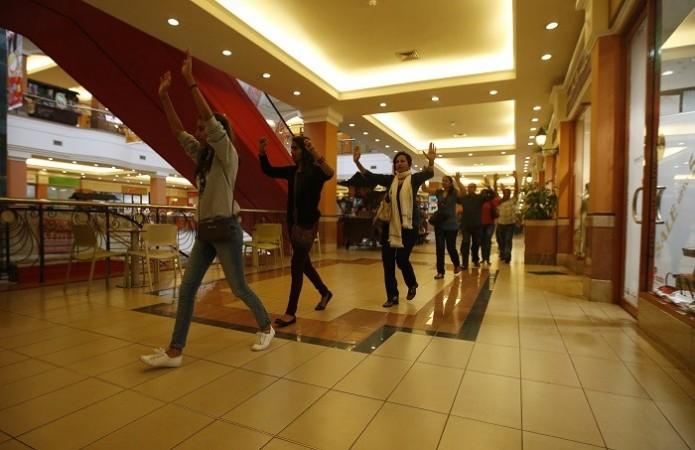 The number of Indian casualties in the terror attack on a shopping mall in Kenya's capital Nairobi rose to seven on Tuesday. The Ministry of External Affairs said three of the community members were killed and the rest injured during the attack.
Armed gunmen, belonging to the Somali Islamist group al Shabaab, stormed the upscale Westgate shopping mall during the weekend. At least 62 people were killed, including close relatives of Kenyan President Uhuru Kenyatta, and more than 170 injured.
Kenya officials told Reuters that security forces had the situation under control on Monday and were able to free the hostages.
The toll mounted during the terror siege and one more Indian national was confirmed dead.
"Death toll of Indian citizens killed in #Westgate attack rises. Sudharshan B.Nagaraj from Bangalore sadly identified as among those killed," MEA Spokesperson Syed Akbaruddin announced on micro-blogging site Twitter on Tuesday. Nagaraj was in the business of book trading and had recently left for Nairobi.
On Sunday, the ministry had announced that Sridhar Natarajan, 40, and Paramshu Jain, 8, were killed during the terror attack. Natarajan, who hailed from Tamil Nadu, worked in a local pharmaceutical company. Prayanshu is the son of a bank manager.
The four Indians who were injured are identified as Manjula Sridhar, Mukta Jai, Kumari Poorvi Jain and Natarajan Ramachandran. Indian diplomats in the Kenyan capital are continuing to provide medical facilities for the wounded.
Condemning the terrorist attack, Prime Minister Manmohan Singh had written to the Kenyan President saying, "India condemns in the strongest terms this heinous and senseless assault, which has snuffed out so many innocent lives, including nationals of both our countries."
"I am confident that Your Excellency and the people of Kenya will have the strength and resilience to deal with this tragedy and respond firmly to the forces of terror. We stand ready to assist you in your efforts," Singh added.
Florence Imisa Weche, Kenyan High Commissioner to India, offered her condolences for the loss of Indian nationals in the attack.
The Indian government is said to be in touch with the victims' families and providing medical assistance.
When asked if the dead will be brought back to India, Akbaruddin, MEA Spokesperson, said, "It is matter for their next of kin to decide on. We are in touch with them."
Saturday's terror attack sparked concern among political circles in India. Gujarat chief minister and NDA prime ministerial candidate Narendra Modi tweeted, "Condolences to the families of those who lost their lives in the Nairobi attack & prayers with the injured."
Political activist and author Sudheendra Kulkarni condemned the attacked saying, "Muslims worldwide should ponder:Don't terror attacks like the one in #Kenya create ill-will and prejudice towards Islam among non-Muslims? Targeted violence, committed in the name of any religion, mustbe condemned unequivocally by all members of that religious community.#Kenya 2"
Al Shabaab, which has links to militant group al Qaeda, had repeatedly threatened to unleash terrorism if Nairobi did not withdraw its troops from Somalia. President Kenyatta pledged to find those responsible for the attack and bring them to justice.
"We have overcome terrorist attacks before. We will defeat them again," he said on Saturday.