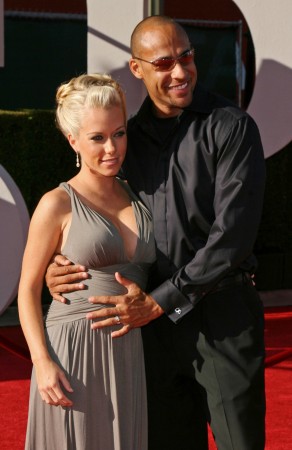 Much has been written about the state of Kendra Wilkinson's marriage to husband Hank Baskett, especially after the news of him allegedly cheating on her with a transsexual model went public. But from the looks of it, all's well between the two, and they are attempting to give their marriage yet another shot.
Wilkinson recently told Extra that she won't be divorcing Baskett, as she wants to give Baskett the benefit of the doubt.
"I do believe Hank and I will survive this," she said, according to Radar Online. "I will give him the benefit of the doubt. He's just too amazing… I'd be stupid… I'd be so dumb to divorce him right now and see him with another girl… I mean come on… he treats me like a queen."
This statement is in tune with her earlier comment to Giuliana Rancic where Wilkinson said that Baskett deserved forgiveness. "I'm willing to spend the rest of my life to figure this out rather than spending one night single without Hank in my life," she said at the time, dispelling rumours of a split.
Wilkinson's marriage to Baskett has been on shaky grounds for roughly four months, ever since transsexual model Ava Sabrina London revealed that the athlete had an affair with her. Baskett has denied the allegations.
Wilkinson recently revealed that she was forced to explain the situation to their four-year-old son after he witnessed a fight between his parents.
"My son is definitely not old enough for any of this or any detail or any explanation," Kendra told E! News, while promoting the new season of "Kendra On Top." "But he did witness the initial fight. It's funny because he's never ever witnessed a fight between Hank and me. I didn't explain what it was about, but I explained that papa had to go on grown-up time-out and it was really sad," she added.
"He's extremely smart," she continued. "He still thinks about that day sometimes and he'll bring it up and I make sure that I comfort him and tell him that we're all not perfect and we all get in fights."