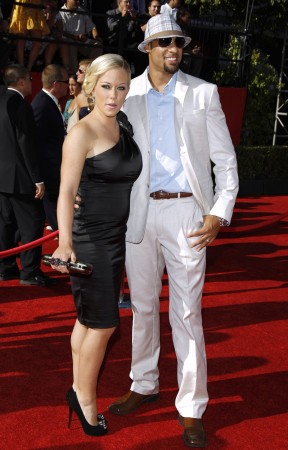 The latest teaser to the upcoming season of "Kendra On Top" shows the former Playboy model confronting her husband about his alleged affair with a transsexual model.
The affair allegedly took place in April, and news of the rendezvous started spilling out sometime in June. Though the affair shook Baskett's marriage, nothing about how his wife reacted to the news was known to the public, until now.
In the clip, Baskett is seen pleading his case trying to convince Wilkinson that he didn't cheat on her. "I didn't do anything," he says, to which Wilkinson replies: "No one believes you. Did you think about your family when you did what you did?"
Later on in the clip, the 29-year-old is shown confiding in her friend about the affair, telling that her "whole life just flipped upside down."
A friend of the reality show star told E! News that Wilkinson has not hid anything from the cameras, and added that all her raw emotions have been captured for the show.
"To her credit, Kendra's not trying to hide any of this from the cameras," the source said. "Literally in one scene, viewers will see her break down and fall on the floor collapsing in tears. It's raw and it's real. She knows her fans expect honesty from her and she's delivering it."
Meanwhile, a new report claims that Wilkinson has allowed Baskett to move back in with her, after nearly two months apart. While some publications claim that Wilkinson is ready to give their marriage yet another shot, a source told Radar Online that it's all part of a well orchestrated plan increase her paycheck.
"Kendra's a really smart girl," the source said."She knows how the business works and she knows how to make lemonade out of lemons."
Soon after news of Baskett's affair with Ava Sabrina London went public, his wife of five years Wilkinson was spotted without her wedding ring, and initial rumours suggested that she has filed for divorce. One of the earlier trailers to the new season even had her saying that she flushed her wedding ring down the toilet.
Watch the drama unfold on WE TV on 3 October at 10 p.m.