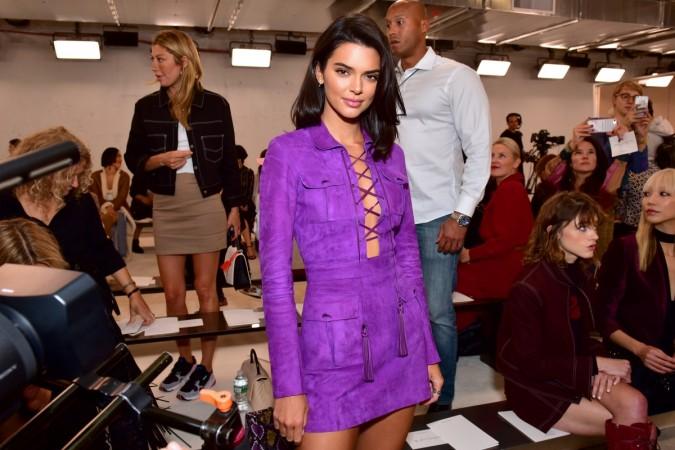 It's surely no secret that supermodel Kendall Jenner believes that variety is the spice of life. Not one to hang around too long with a single beau, this Jenner has been playing the field in search of a long-time love. Having recently broken up with NBA star Ben Simmons, Kendall has been spending a lot of time with Anwar Hadid.
The pair were initially seen getting steamy at the CFDA Awards in June and since then have been spotted together on numerous occasions. Just a couple of days ago, 22-year-old Jenner and19-year-old Hadid were seen partying together at Fashion Week in Paris after which, the supermodel sported a giant hickey on her neck.
A source close to the Kendall revealed to Hollywood Life, "Kendall's having so much fun with Anwar, she's not putting labels on it but he's going out of his way to make her feel like a queen and she's loving it. It's not just a physical attraction, although she does think he's sexy as hell, they connect on a lot of levels."
The insider further added, "Anwar is a deep thinker with a lot of passion for helping the world and Kendall appreciates that, it's a turn on for her. She knows he's a guy with a lot of integrity and that makes her feel very safe. She can trust him."
What seems to be making this budding romance blossom even more smoothly is the fact that not only is Anwar a model as well but his sisters Gigi and Bella are close pals of Kendall.
According to a report in Hollywood Life, Bella definitely approves if they start a relationship. A source said, "Bella would completely support a relationship between her BFF Kendall and brother Anwar."
"In fact, Bella would absolutely love if her best friend and her brother were to date! Bella already loves Kendall like a sister, but the thought of Kendall potentially ending up a sister-in-law one day would be a dream come true for her," the insider added.
There was also buzz surrounding Anwar drooling over Kendall's leaked nude photos. "Anwar has been crushing on Kendall for years, he thinks she is smart, successful and funny too. He can't believe how beautiful and sexy she looks without any clothes on in the leaked pics. Anwar can't stop thinking about Kendall since seeing those pics," a source told Hollywood Life.