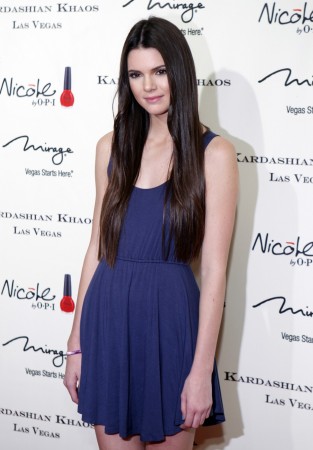 Kendall Jenner seems to have moved on from Harry Styles, as the 18-year-old was all smiles when she went to Pinkberry with a friend on 12 March.
Interestingly, Harry Styles was also having lunch in a nearby hotel, but he was alone. Reportedly, it was same hotel where the couple had their first meal together.
This is not the first time Jenner has been spotted with a mystery man since splitting up with Styles. A few days back the upcoming model posted online a photo of hers on a Vespa with a mystery man, probably to tell Styles that she has moved on.
Styles was recently spotted engaging in a PDA with "The Kills" star Alison Mosshart. Reportedly, the couple went on a dinner date to The Box in London's Soho and there was a lot of kissing and hugging between the two.
"They were both very touchy feely in a booth and both pretty drunk," a source told The Metro. "It was Harry who made the move. They were having a great time together with a lot of PDA," a source revealed, adding, "At one point he was stroking her hair as she lay her head on the table."
Is Jenner trying to make Styles jealous with her mystery men?
"Kendall is absolutely crushed that Harry ended their relationship. She's heartbroken and leaning on her sisters for support," a source close to Jenner told HollywoodLife. "She didn't think she'd fall so hard for him the first place. She wanted to take their relationship to the next level and he basically said he couldn't give her what she wanted and he didn't want to hurt her."