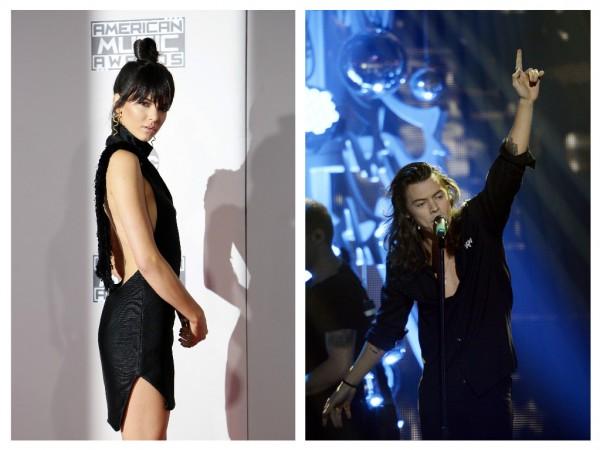 Harry Styles and Kendall Jenner took media and their fans by surprise when they were spotted getting all mushy during their New Year vacation. Several reports suggested that this could be the next hottest couple, after Taylor Swift and Calvin Harris. But now, it looks like things are fizzling out and the hot air is cooled down between the model and the One Direction star.
When Jenner decided to hook up with Swift's ex-boyfriend, many wondered how could a friend do this to a friend? Many stood up for the model saying it's all about love. But now, it looks like even the "Keeping Up With The Kardashians" star has been giving second thoughts to this equation with Styles and has been thinking if it was worth getting carried away in romance with a man who is her friend's ex.
According to Hollywood Life, Jenner is now done waiting for Styles to get serious and is on a trail to find a new man who can actually commit to her. "At this point in her life, Kendall is ready for a serious relationship," a source said.
"She thought she could just go with the flow with Harry, but it's just not making her happy. Harry is too loosey-goosey for her. It's pretty much what happened the first time around for them; Kendall wanted more and Harry wasn't ready to fully commit. They aren't on bad terms or anything, but Kendall isn't going to wait around for Harry to make the next move, which would be to make a serious commitment and follow up with concrete actions. She wants a guy who's going to walk the walk," the source added.
Meanwhile, Sugarscape reported that Jenner also realises that Styles is "not that into her." The model apparently told her friends that, "Harry's just not that into me." According to the report, the chemistry just fizzled out between the two once they got back from their hot and heavy vacation. Apparently, Styles acted very cold and hardly spoke to the model after their return. "When Kendall finally saw Harry again he was totally cold and barely said two words to her," a source said.
"She allowed herself to get swept away with the romance, upsetting her good friend Taylor Swift who's also dated the One Direction star in the past, in the process," the source added.
The report said that this has got Jenner wondering if it was worth having feelings for Styles, while she is still friends with his ex, Taylor Swift. Many fans have been wondering if Styles still has feelings for Swift and if Jenner, being her friend, is coming in way of his commitment for the model.
Now, we don't know whether Harry Styles still has feeling for Taylor Swift, but it look like Kendall Jenner has now decided to move on.