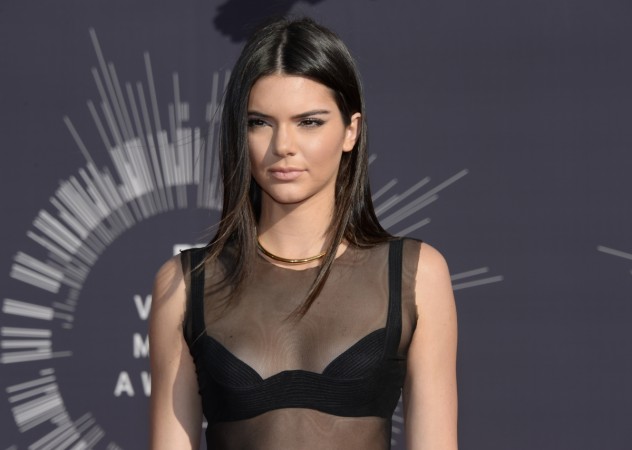 A leaked photo from Love magazine shows Kendall Jenner in a topless avatar.
The British magazine shows Jenner wearing only a pair of Balenciaga shorts and she is flaunting her chest, which appears to be digitally enhanced. The model teamed her racy look with ceramic mask, fishnet stockings and black stilettoes.
Kendall Jenner for LOVE Issue 13, photo by Steven Klein pic.twitter.com/cNHqheVev1

— Kardashian Pedia (@Kardashianpedia) February 4, 2015
Jenner reportedly shed her clothes for the Spring/Summer issue of the magazine, which will hit stands on 9 February, reported Huffington Post. For the cover shot, Jenner has posed with model Cara Delevingne. The two can be seen in an intimate pose as Jenner climbs on Delevingne. They are sporting tank tops and have worn their hair loose. The magazine's issue has been titled "Kendall on Cara."
This is for the second time that the two models have struck a controversial pose. Last year Jenner and Delevingne were seen in a similar pose for the Love Magazine. It featured both the stunning ladies wearing Bottega Veneta as they looked intensely into each other's eyes. Delevingne was seen holding Jenner in her arms. The British stunner had her one arm wrapped around Jenner's waist while she had another hand on Jenner's derrière.
Meanwhile, Jenner's half-sister Kim Kardashian also posed for the latest issue of the Love magazine. She went naked in an unbuttoned full-length Prada fur coat, reported Mirror. The reality star coupled her racy look with a pair of brown sunglasses.
The mother of one can be seen standing at an apartment's door with her naked body on full display. The controversial shot has been taken by photographer Steven Klein. In another shot, she can be seen showing off her famous derriere as she sports a black jacket and holds a cigarette in her hand. Kardashian took to Instagram to express her excitement about the shoot.
Kim Kardashian West for LOVE Issue 13, photo by Steven Klein #Prada pic.twitter.com/SO3YNb8hXr — Kardashian Pedia (@Kardashianpedia) February 4, 2015
"@kegrand dressed me in all vintage and custom @Prada and bleached my brows! Can't wait for u to see 30+ page spread with Steven Klein for Love Magazine," she wrote at the time of shoot as per Eonline.