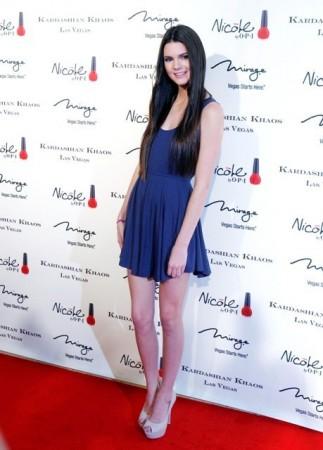 Model Kendall Jenner must be glad that her modelling career has shaped up well but her thin frame seems to have shocked people close to her. She is reportedly into dangerous diet to lose weight which could affect her health in the long run.
"She wants desperately to be taken seriously as a model and if it means starving herself, she'll do it," an insider told Life & Style.
It seems the 18-year-old model, who is 5'10" in height, is underweight by about 50 pounds.
"She appears to weigh close to 100 pounds," nutritionist Lisa DeFazio told Life & Style, according to Radar Online. "A healthy weight for a woman of that height is about 150 pounds."
Kendall Jenner recently told E! News that she drinks lots of detox tea, and eats lots of fruits, vegetables and lean proteins.
"I usually start my day off with a cup of detox tea," Jenner told E! News. "I have like 12 cups a day."
However, detox tea reportedly "contains diuretic and laxative dandelion root, which can cause dehydration and other serious side effects in large doses," reported Life and Style magazine.
An insider also told the magazine that "She has become more controlling with food. During a recent family dinner, Kendall ordered just a bunch of raw veggies and nibbled on them." But her half-brother, Brody Jenner, is not concerned with her weight loss. He said that "Kendall's got a good head on her shoulders. I'm not worried at all. She's doing great."
Jenner has been trying to make it big in the modelling industry and has even dropped her last name as disconnect from her Kardashian sisters but she reportedly gets into trouble every now and then because of her weight. A magazine called Famous recently had a cover story that read: "Model Bosses blast Kendall Jenner, call her too fat for runaway. Devastated Kendall asked to lose 8 kg." It was also reported that the model was bullied by some of her colleagues during New York Fashion week.
"The other models worked so hard to get a spot on the runway and didn't think it was fair that she was there," a source at fashion week told In Touch, according to Daily Mail. "They started acting b*tchy. Some even put out their cigarettes in Kendall's drink!"
Well, it looks like Kendall Jenner is serious about her modelling career and would do anything to remain in shape.