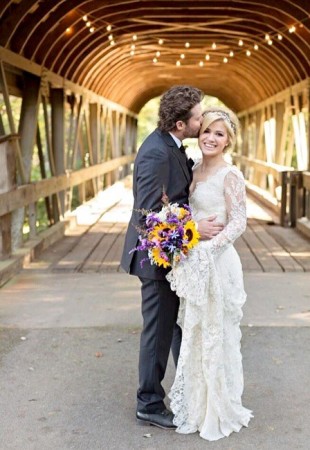 At The Tonight Show with Jay Leno, singer Kelly Clarkson hinted that she might be pregnant, just weeks after her intimate wedding with long-time fiancé Brandon Blackstock.
Kelly Clarkson has made no secret that she's always wanted to be a mother and now that she has officially become Mrs. Brandon Blackstock, there's no stopping her. After being engaged to for nearly a year, the couple tied the knot in an intimate wedding ceremony, October 20.
Now, it seems that the former "American Idol" winner is all set to start a family. E! Online reported that the singer dropped subtle hints at the Tonight Show With Jay Leno, suggesting she might be pregnant. After revealing to host Leno that the couple is actively trying to get pregnant, she exclaimed, "Practice makes perfect!"
When asked if she was pregnant at the moment, she diplomatically answered the question saying, "We are not announcing anything right now. We're not, no!"
A playful Leno went on to tease Clarkson saying that he always gets stars on his show telling them they're planning to have a baby and then go on to the "Ellen" show the next day to announce they are pregnant.
Clarkson reassured the host that she and her husband won't be making any such announcements. However, she didn't quite answer the question of whether she was pregnant which left the audience wondering what she meant when she said "practice makes perfect," in context to getting pregnant.
In an earlier interview with Us Weekly, the singer said that she wanted to have two kids with Blackstock.
"I want two kids. Two more, that is. I've already got two!" she told Us Weekly in an interview earlier this month. "Well, I'm totally gonna have a girl. My first child will be a girl-I know it in my soul."
The couple announced their engagement in December last year. While this is Clarkson's first wedding, Blackstock has two children from a previous marriage -- daughter Savannah, 12, and son Seth, 6. Both children live with their father and Clarkson.