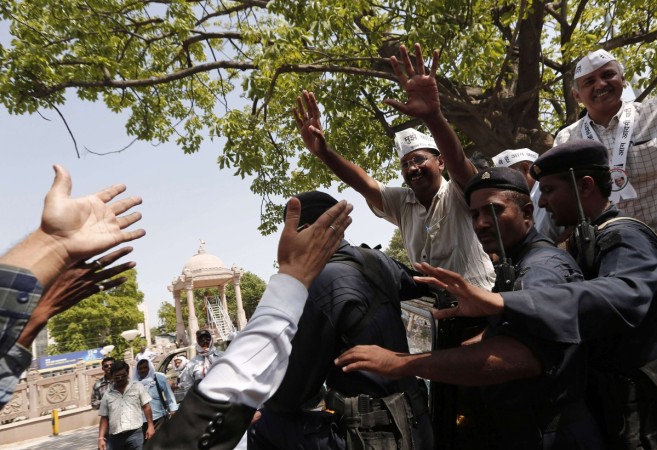 Hours after announcing that he would seek people's opinion for re-election, former New Delhi CM Arvind Kejriwal was sent to Tihar Jail after he refused to seek bail in a defamation suit.
Kejriwal had refused to pay a bail bond of ₹10,000 in a defamation case filed against him by BJP leader Nitin Gadkari. The Aam Aadmi Party (AAP) chief is now likely to stay in Tihar at least till Friday, reports suggest.
The AAP leader told a judge that he would not seek bail, to which the judge asked if he was looking for any special treatment.
"When you are representing AAP, we expect you to behave like an Aam Aadmi. Let the procedure be the same for everyone. Is there a problem in furnishing a bail bond?" the magistrate asked Kejriwal as quoted by NDTV. "What you are asking for is differential treatment."
Kejriwal then replied that he did not commit any crime and added that he was simply implicated for political purposes.
"I am ready to go to jail. We are setting a precedence. I am not saying that give this treatment only to me. Give it to all," the AAP convenor stated.
Kejriwal had included Gadkari in a list of "India's most corrupt" in January, and the AAP chief was summoned on 28 February, based on Gadkari's complaint.
Gadkari told the court that his dignity was lowered by the "false, baseless, scandalous, defamatory statements" made by Kejriwal.
The news of the arrest comes only hours after Kejriwal apologised for giving up his post of the Delhi Chief Minister and sought for a fresh election.
Kejriwal conceded that people in the state were upset with his decision to quit and they are of the view that he ran away from his responsibility mid-way.
"People are upset that we left them in the middle of nowhere, they are upset we resigned," Kejriwal said earlier on Wednesday. "I apologize to the whole nation for this mistake."