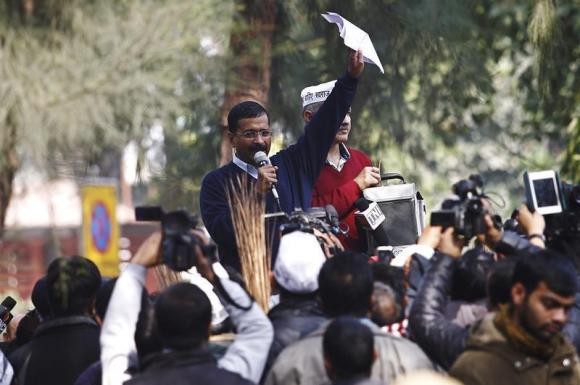 The Delhi Police have registered a first information report (FIR) against the Aam Aadmi Party (AAP) protesters who staged the 33-hour demonstration outside Rail Bhavan in the heart of Delhi.
Police have not yet informed who the FIR have been exactly filed against, while it has been confirmed that AAP leader and Delhi Chief Minister Arvind Kejriwal has not been named.
Kejriwal was reported to be admitted to hospital on Wednesday morning with severe lung congestion. He was racked by cough in the past few days of the dharna that he held during the bitter cold weather. He had event spent a night on the street near the Parliament house on a makeshift bed.
Kejriwal, in a shawl tightly wrapped around his head, was seen making great effort to shout over the babble of media personnel surrounding him as he announced the end of his sit-in at around 7.30pm on Tuesday, an event many have dubbed as a 'face-saving' tactic.
He called off his demonstration after Lieutenant Governor Najeeb Jung partially agreed to the demands raised by the AAP, Kejriwal told a zealous crowd in the dark.
Jung promised to fast-track an inquiry against policemen alledged by AAP for skirting their duty. One of the officers who Kejriwal wanted to be suspended has been "sent on leave".
As he called off the strike on Tuesday, the frail-looking CM declared it a "great victory" for Delhi.
"If any woman of Delhi is attacked, then we will not sit quietly," he warned.