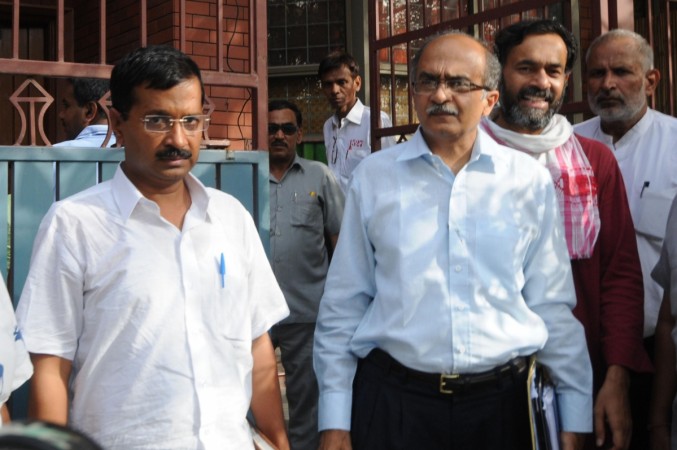 Things in AAP took a turn for the worse with Yogendra Yadav and Prashant Bhushan going hammer and tongs at the Kejriwal camp during a press conference on Friday.
Proceedings got even uglier after a telephone sting of a conversation between Arvind Kejriwal and AAP leader Umesh Singh was released in which Kejriwal was heard taking on Professor Anand Kumar and Ajit Jha, supporters of Yadav and Bhushan. "Yeh kameene hai ek number ke (they are rascals of the first order)," he is heard saying. "In any other party they would have been kicked on their backsides and sent packing." Kejriwal also threatened to leave the party with his 67 Delhi MLAs if thing came to that.
In another twist to the tale, sources claim that Yadav and Bhushan could in fact start a new political outfit, reports The Times of India. When asked what the end result would be if Yadav and Bhushan were booted out of the party, Anand Kumar said, "This is not the end. We may start a new movement, new initiative, a new front..."
AAP leader and former television journalist Ashutosh's reaction to Kumar was, "This just proves that they continue to conspire against the party and to work towards removing Kejriwal. There have been a series of stings against the party...on whose behalf are they being conducted?"
Earlier in the day, as talks of Yadav and Bhushan being expelled from AAP gathered momentum, party leader Kumar Vishwas said that the "rebel duo" should "quit and exit the party gracefully".
Vishwas also blamed "external forces for creating trouble within AAP", reports NDTV.
Kejriwal has still remained silent about the ouster of Yadav and Bhushan from AAP's Political Affairs Committee three weeks back. The duo on its part however alleges that they are being victimised because of demanding transparency and internal democracy.