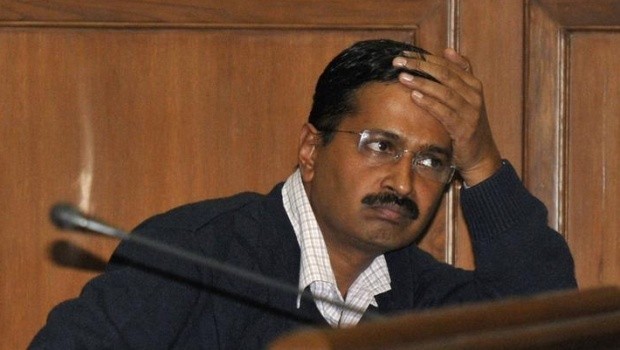 Aam Aadmi Party (AAP) convenor, who was on a three-day campaign tour in Haryana since Friday, fell ill while engaging in a road show in Chandigarh on 30 March 2014. Kejriwal was campaigning on behalf of his party candidate and actress Gul Panag for the April 10 Lok Sabha election.
After the campaigning programme in Chandigarh, Kejriwal was scheduled to address poll campaign road shows in Panchkula, Ambala and Sonipar. Media reports say that Kejriwal cancelled his Haryana poll programmes and returned to his Delhi home.
Kejriwal, along with Panag, canvassed in Chandigarh and its suburbs. Crowds in most areas received the AAP leader with enthusiasm. It can be recalled that Kejriwal has already faced assaults in the last four days in Varanasi in Uttar Pradesh and Charkhi in Dadri town of Haryana (on Friday).
There was a large number of police force in place in Chandigarh's road show of the AAP leader to avoid any untoward incidents.
Panag is contesting the Lok Sabha election against Pawan Kumar Bansal, a former railways minister and serving Congress MP. She is facing the electoral battle against acress Kirron Kher of Bharatiya Janata Party (BJP) and Jannat Jahan of Bahujana Samaj Party (BSP) in the constituency.
Earlier in the day, Kejriwal started his poll campaign with a roadshow in Chandigarh and accused Haryana Chief Minister Bhupinder Singh Hooda and Gujrat Chief Minister Narender Modi, who is also BJP's prime ministerial candidate, of working for Reliance Industries and its owner Mukesh Ambani. AAP also released a press note and alleged that Congress party's heart was beating for Reliance Industries.
AAP's allegations came in the backdrop of a criticism on Election Commission by two union ministers-Jairam Ramesh and Anand Sharma of Congress. The duo have expressed their objections for the Commission's move to postpone the gas price revision by the UPA government at the Centre. The Commission had recently instructed the goverment to postpone doubling the price of gas produced by companies like Reliance till the general elections are over in May.
Reliance is the major contractor in Krishna Godavari D6 gas fields in the eastern coast of the country.