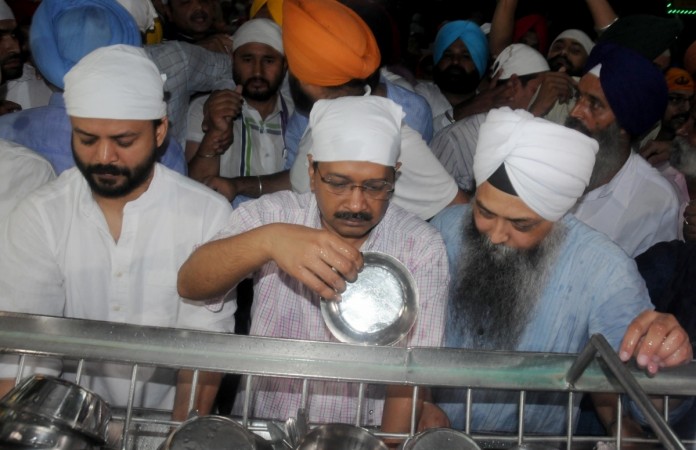 Delhi Chief Minister Arvind Kejriwal is no stranger to controversies. Here is one from Amritsar, Punjab, where he visited the Golden Temple to seek forgiveness for a controversial ad on the cover page of the AAP's manifesto for the coming Punjab elections.
Kejriwal had gone to do service (sewa) on Monday at the temple by cleaning utensils at the community kitchen. However, the gesture landed him in trouble as pictures showed him cleaning utensils that were already clean, according to IANS.
Accompanying Kejriwal were other party leaders including Ashish Khetan, H.S. Phoolka and Bhagwant Mann.
The atoning act was dismissed by Congress party leader and Lok Sabha MP from Amritsar, Capt Amrinder Singh as "theatrics."
"Kejriwal's attitude and approach during his entire stay at Darbar Sahab was anything but apologetic. A person tendering apology and seeking forgiveness behaves with modesty and humility and not the way he acted today," the PTI quoted him as saying.
"Moreover, you don't atone for others' sins and that too when the count of your own sins is already too long to do such favour to others," he added.
However, some took objection to the images showing Kejriwal holding a clean utensil at the community kitchen (langar). There were other tweets also about the AAP leader's forgiveness exercise at the temple on Monday, with one person saying he lowered the dignity of his office by his act.
@ndtv @ArvindKejriwal Kar sewa in temple, Gurudwara is correct, But washing utensil used by others at Social Media don't suit as CM Delhi

— Nand Garg (@NandGarg7) July 18, 2016
Langar ghar of al Gurudwara hav system of cleaning utensil 3rice or more to ensure hygiene, fake media shud be aware of this @ArvindKejriwal

— Naresh (@nareshca2708) July 18, 2016
Sir j tussi the great ho
The great nautanki @ArvindKejriwal cleaned already cleaned utensil in the name of sewa
sir j aapse yhi umid thi

— nishu gunjan (@GunaNishu) July 18, 2016
The utensil cleaning photo op of @ArvindKejriwal is just anothr publicity stunt gone wrong#केजरी_का_धर्म_धोखा @Radhika_Khera @westbengalpyc

— Vinay Kumar Dokania (@vinaydokania) July 18, 2016