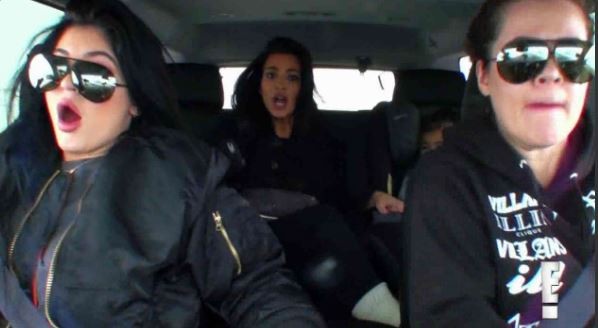 Kim Kardashian was left shaken after she met with a car accident along with Khloe, Kylie and daughter North West. In a sneak peek of the 31 May episode of "Keeping Up with the Kardashians", viewers can see how Kim and the rest of her family survived the frightening car accident.
The car crash that the sisters faced in February after a ski trip in Montana, will be featured on this Sunday's mid-season finale of "Keeping Up With The Kardashians". Viewers will get a peek into how scary the crash was for the family, especially for Kim, who cries out, "I don't have my seat belt on, holy shit!"
The cameras installed inside the vehicle were rolling throughout the incident. It has captured the crash and the emotional trauma following the mishap.
No one was injured in the accident, which was caused by poor road and weather conditions. But Kim was so upset that she burst into tears. She cries on the phone as daughter North can be heard in the background.
"Our car's stuck in the snow in, like, a ditch off the side of the road. We skidded into the other side of the road, and a car was, like, coming towards us," says Kim, while relaying the horrifying details that nearly saw the KUWTK stars die.
Khloe, while narrating it to Kourtney, added, "We almost flipped our car or flew off the road."
The incident seemed to have really changed Khloe as she said in a confessional, "When stuff like this happens, it makes you put everything into perspective, life, family, friends, what's important to you."
"Things can change in a blink of an eye. Our family has learned that tons of times. We definitely have angels surrounding us today," she said.
In addition to this, there's more heart-pounding encounter on the 31 May episode. Kim will also be seen getting emotional as she continues to try and have a second baby.
At a doctor's appointment, she discusses her ongoing fertility issues. The reality star complains, "I'm like so over it. Like, I'm exhausted. I'm sure everyone gets to that point."
Apart from the terrifying car accident and Kim's fertility issues, the episode will also feature Kendall Jenner's clash with Kris Jenner during Fashion week, and not to forget, how the girls deal with Bruce Jenner's transition.
More drama and excitement to unravel on 'Keeping Up With The Kardashians' episode on Sunday, 31 May.