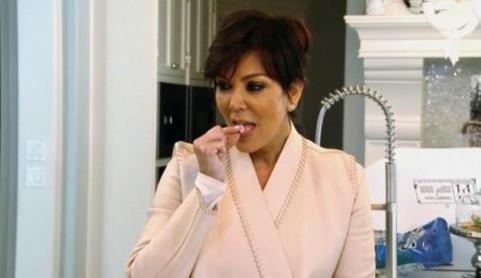 The American television reality series "Keeping up with the Kardashians" (KUWK) has mainly focussed on the bonding between Kris Jenner and her mother Mary Jo Shannon (MJ) in its latest episode aired on 10 August. The program showed Kris enjoying some medical marijuana with MJ.
MJ has been a strong role model to Kris as she have survived breast cancer as well as colon cancer and has been dealing with regular chronic back pain for a long time. However, she is upset over her mother's discomfort and wonders how she can help alleviate the pain.
After some research, Kris decides to consult a medical marijuana doctor for getting some prescription for MJ. Once she finds out how easy it is to get medical marijuana, she gets recommendation for her stiff neck as well.
Later on, she heads to a hookah store, which then turns into a full-on shopping spree. The employee shows her all varieties of pipes and bongs for her to smoke her marijuana. Finally, she finds a leopard-print bong and matching case for her mom.
Kris, excited with her recent purchase, heads home and asks MJ how she feels about prescribing marijuana. Kris is surprised to find out that MJ already has the prescription and prefers to eat it instead of smoke.
M.J. has some "special" gummy bears. #KUWTK pic.twitter.com/l2YHe5EF5m

— Kardashians on E! (@KUWTK) August 11, 2014
She tries to convince Kris to try some with her, and she does make some strong points.
"They've obviously made it (marijuana) medicinally available for people with AIDS and cancer and it's a good thing," says MJ.
Kris also has a strong reason to lend support to her mother, "I don't like to drink alone, so I'm sure you don't like to take this alone."
"I'm not against anybody getting a little pain relief from medical marijuana. That's the whole point here. So if it helps my neck pain... I'll do it this one time...I never thought in a million years that I would be doing this with MJ," Kris told the cameras.
An hour later, they are shown in the living room, with incense burning and surrounded by a variety of food items. When Kim says that the pop corn is really good, MJ complements her cooking. "I didn't cook the pop corn," replies Kim, setting off a series of laughter, to which Bruce Jenner walks in.
He gets upset with the duo for having marijuana and tells them that he "wants that sh-t out of the house" house before Kylie and Kendall come home. He also accuses them of setting a bad example for the children. But Kris and MJ laugh hysterically at Bruce, clearly not taking him seriously.
Finally, Bruce leaves and this is what happens:
Ummm... #KUWTK http://t.co/l29R4CX06d

— Kardashians on E! (@KUWTK) August 11, 2014
"KUWK" fans have had a riot watching the mother-daughter duo get high on camera.
"Watching Kris and MJ eat their marijuana treats is the funniest thing EVER! #KUWTK " posted Mali.
Krystal Walsh posted, "Kris and MJ getting stoned on #KUWTK is the best thing I've ever seen".
Khloe Kardashian too gave her approval on Twitter: They are wild and I love it!!!! "@EphenStephen86: @khloekardashian Kris & MJ are on one! Are you ok w/ that? Lmao #kuwtk"
Watch the video of Kris and Mj getting high on marijuana gummy bears here.