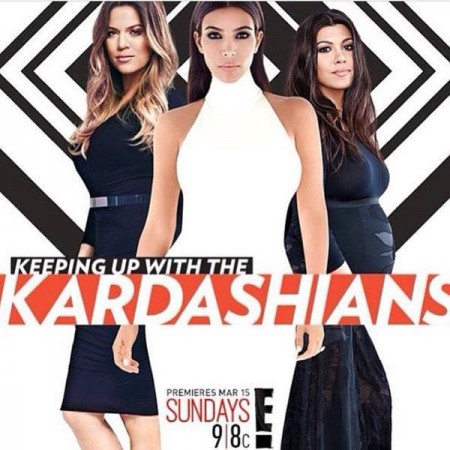 E! will air "Keeping Up With the Kardashian" season 10 premiere this Sunday, 15 March, at 9pm but the cast members of the reality series won't be interacting with the viewers through media during the course of the season.
Kim recently informed her fans on Twitter that her family wants the show to speak for itself. "My family decided not to do any press about our premiere & let this season speak for itself &answer all of the questions you might have had," she tweeted.
The 34-year-old also shared her excitement about the upcoming season, as she wrote, "There are so many incredible memories over the past 10 seasons and we're excited to share more."
Meanwhile, E! has released several sneak peek videos of "Keeping Up With the Kardashian", which indicates that tension will be mounding between Bruce Jenner, Kris, Kourtney, Kim and Khloe.
Two of the trailers talk about Bruce's alleged relationship with Kris' close friend Ronda Kamihira and its affects on the Kardashian family. A 45-second-long clip begins with Kourtney informing her sisters about a suspicious call received by her step-father and ends with Kim sharing her concern on camera.
"I think it is just where Bruce has not mentioned anything to anyone about talking to one of my mom's close friends. It's hard enough to already keep a family together after divorce throwing this into the mix," she says.
In another video clip, Kim is seen confronting Bruce on his alleged relationship with Rhonda. Although the former Olympic champion denies the allegation, she does not believe him and tells him about her mother's helpless situation. "My mom sits and cries about it at night over how her friend could have done this to her," she says.
Besides the Bruce-Rhonda sequence, "Keeping Up With the Kardashian" fans can also watch some sisters fight in the premiere of season 10 as a trailer shows a play full fight between Khloe and Kim.
In the meantime, E! has announced a live Kardashian Countdown show before every new episode of the reality series to provide a glimpse of the upcoming sequel.
Watch the premiere of "Keeping Up With the Kardashian" season 10 live here.