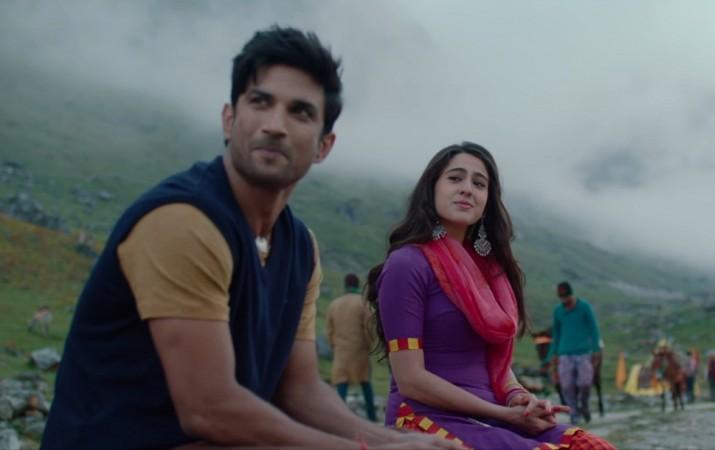 The much-awaited trailer of director Abhishek Kapoor's Kedarnath has finally released online and lead actors Sara Ali Khan and Sushant Singh Rajput are here to tell you a tale of an eternal love story which is set in the backdrop of the 2013 Kedarnath floods.
The 2-minutes-59-seconds trailer begins with a dramatic background sounds of thunderous storm clouds pouring heavily over the grounds and then slowly introducing viewers to an aerial view of the small Kedarnath town of Uttarakhand.
As the voice-over lets us know about the difficulties locals face in managing thousands of people who come to visit the Kedarnath shrine, we are introduced to Sushant Singh Rajput, a porter (belonging to Muslim community) whose ancestors have been serving devotees and leading them all the way up to the shrine.
After giving us a glimpse into the world of pilgrimage and the picturesque landscapes of the mountainous region of Uttarakhand, we are introduced to Sara Ali Khan, who plays a cheerful and bubbly Hindu girl who bumps into Sushant while her way to the shrine. And then the trailer starts teasing us with some of the innocent and teasing encounters between Sushant and Sara while they take on their 14 km long journey to the shrine and fall in love with each other.
As Sara and Sushant face rejection from their respective families, the natural calamity strikes the temple town of Kedarnath showing us visuals of huge cloudburst giving birth to heavy floods that wash away everything that comes in its way.
While the breathtaking visuals keep you hooked and booked to your screens, Sara and Sushant manage to strike the chord with their loving chemistry and bring out the rawness in their performances.
Sara Ali Khan looks very impressive in her debut act and there's no denying that she exhibited every bit of Amrita Singh's charm with her screen presence. Sushant Singh Rajput too sets the ball rolling with his performance and makes us believe in the character he is portraying.
The dramatic background score adds to the visuals of the spine-chilling 2013 tragedy that had taken the lives of over a hundred thousand people. Director Abhishek Kapoor has done a fine job by taking us on a tour to Kedarnath through his camera lens leaving us awestruck throughout the trailer.
And we must say that Kedarnath is all worth your wait. Produced by RSVP and Ronnie Screwvala, the Sara Ali Khan and Sushant Singh Rajput starrer hits the theatre on December 7.
Watch the trailer here: