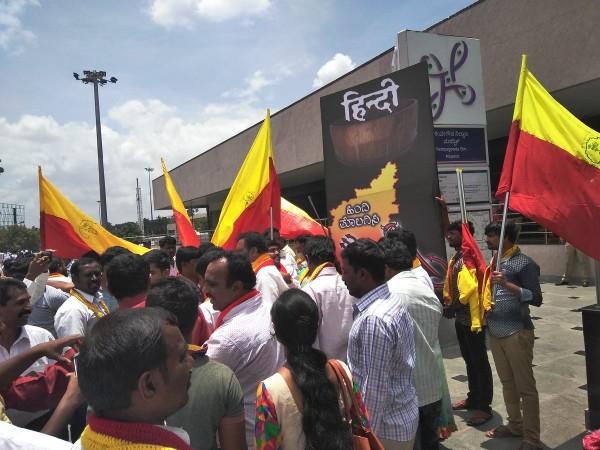 The language wars have taken an uglier turn in Bengaluru, with the Kannada Development Authority (KDA) urging Karnataka Chief Minister Siddaramaiah in a letter to fire all non-Kannadiga or Hindi-speaking engineers who are working with Namma Metro.
A day after the letter was sent, Karnataka Rakshana Vedike activists protested outside the Kempegowda Metro Station on Friday, July 28, against the perceived imposition of Hindi on them.
The demand comes just days after the Bangalore Metro Rail Corporation Ltd (BMRCL) decided, following protracted protests by pro-Kannada groups, to take down all Hindi signboards from names of newly-inaugurated Namma Metro stations.
There has been agitation among the South Indian states following what has been perceived as an effort by the Central government to foist Hindi on them. Hindi is spoken and understood widely in northern, western and parts of eastern India, but the lingua franca of sorts in South India is English.
KDA against Hindi
KDA Chairman SG Siddaramaiah, in the letter to Karnataka CM, has said: "There are seven chief engineers in BMRCL who are non-Kannadigas. Karnataka has the highest number of engineering colleges in the country and we have a lot of qualified Kannadigas to do the job."
He added: "The hiring of so many non-Kannadigas is in violation of the Sarojini Mahishi report. The government must ensure these (non-Kannadiga) engineers are relieved from their jobs."
His observation had come after he and some other members of the KDA inspected the Namma Metro offices and workings on Tuesday, July, 25.
The Sarojini Mahishi report that the KDA head mentioned is from 1986, and had recommended full reservation in state and public-sector jobs in Karnataka, besides some reservation in Central government jobs.

What is the KDA?
According to its official website, the mandate of the KDA is to "implement, monitor, and evaluate programmes for Kannada development, and implement Kannada as an administrative language."
It is also responsible for ensuring that signboards and announcements in public places are made in the Kannada language.
It remains to be seen how Karnataka Chief Minister Siddaramaiah reacts to this demand.