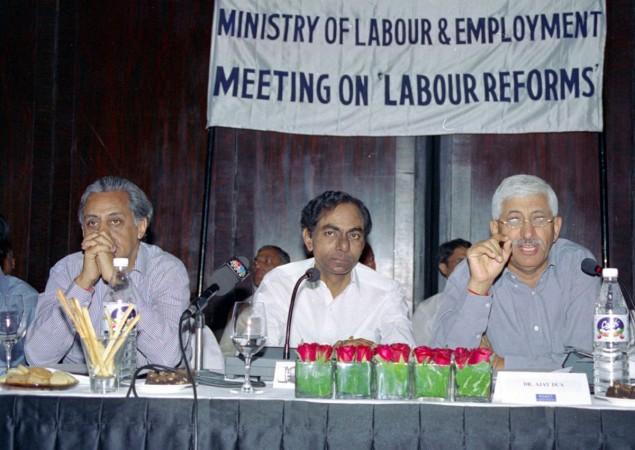 Telangana Chief Minister K Chandrasekhar Rao (KCR) has promised information technology (IT) firms and other industrialists to clear their investment proposals within two to three weeks personally, through a single window facility.
To speed up clearances to the firms, a 'Chasing Cell' will be set up in the Chief Minister's office, the CM added.
KCR was inaugurating the second phase of Wave Rock, an IT/ITES special economic zone project by Tishman Speyer and ICICI Venture, in Hyderabad on Tuesday. The Chief Minister reiterated to develop Hyderabad into a world class smart city. The new government is striving for the growth of IT sector in the city, he stressed.
"Our chasing cell would ensure that investors are brought straight to me and after required processes, hand over all clearances at the earliest for them to start work," The Hindu quoted KCR.
The Chief Minister said that any investor coming to the city will be welcomed by the state officials at the airport. And the officials will bring them to the CM straightaway. The investor, after submitting his/her proposals, can come back after two or three weeks to receive clearances for the project and can then immediately start working, KCR pointed out.
Later, while addressing the state officials, the Chief Minister asked them to study industrial policies of countries like Singapore and prepare the best policy for the state to attract investors from within the country and abroad.
The state's single window system will be the best in the country, which will be simple, transparent and corruption-free, KCR stated.
Under the existing system in Telangana, an industrialist, who wanted to establish his/her unit has to get 22 approvals by approaching 17 different departments. He instructed the officials of the state industrial infrastructure corporation to develop available land as industrial parks and keep it ready to occupy industrialists for their units.
The ambitious CM said that the state's industrial policy will be formed very soon. He reiterated his vision of making Hyderabad and Telangana recognised and appreciated globally.
Hyderabad would be transformed into a digital city to compete with global IT destinations. Tisman Speyer choosing Hyderabad for its first project in India points out the future of the city, he added.
The Chief Minister assured the industrialists of zero tolerance to corruption, good working environment, and law and order in the state.
State Information Technology Minister K Tarakarama Rao said that in the past, political instability and lack of decisive leadership hindered the growth of Hyderabad. But now, Telangana has both to ensure Hyderabad's development.