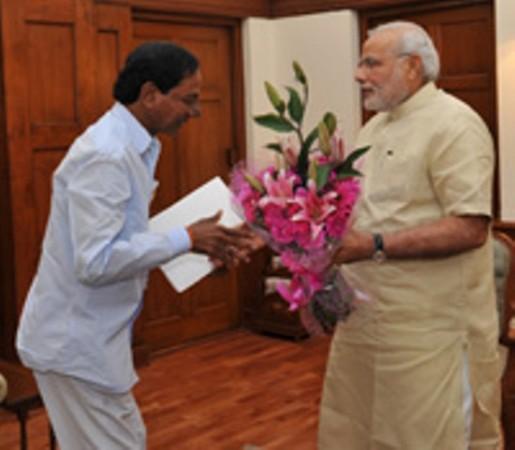 Telangana Chief Minister K Chandrasekhar Rao (KCR) met Prime Minister Narendra Modi in New Delhi on Saturday, along with a delegation of MPs, and urged him to accord special category status to the state for its development in economic, administrative and financial fields.
KCR also invited the PM to participate in the four-day Metropolis World Congress to be held in Hyderabad from 7 October. More than 1,000 delegates from 60 cities of the world are expected to participate in the Congress.
The CM also sought the Centre's help for the state's irrigation and power projects, clearance of pending railway projects and provide a separate high court for Telangana. Currently, both Andhra Pradesh and Telangana jointly share the high court in Hyderabad.
KCR submitted a list of 21 demands from the state to Modi. He urged the Centre to speed up the 4,000 megawatt power project by National Thermal Power Corporation (NTPC) in Telangana as promised in the Andhra Pradesh Reorganisation Act.
KCR explained the energy crisis in the newly created state to Modi and urged him to speed up the power projects.
Granting national status to the Pranahita-Chevella irrigation project, Hyderabad-Nagpur industrial corridor, steel plant of Steel Authority of India at Bayyaram in Khammam district, four Greenfield airports in north Telangana and rail coach factory at Kazipet in Warangal district are the other demands KCR has put forth to the Centre.
KCR met Union Power Minister Piyush Goyal and urged him to take up solar power projects in Telangana, to which Goyal expressed his acceptance. KCR also met Union Law Minister Ravi Shankar Prasad.
On the much popular integrated survey conducted by Telangana government, Karim Nagar MP Vinod said that Modi is interested to examine the Integrated Household Survey in the state. The MPs from the state have explained the benefits of the survey to the PM.