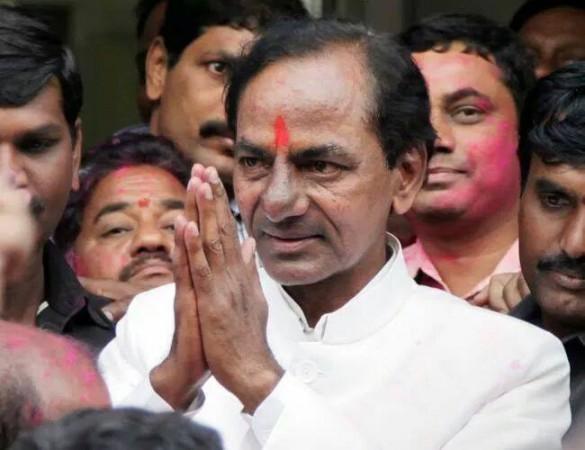 Telangana is all set to become the 29th State of India on 2 June, its Foundation Day.
Chief Minister-designate K Chandrasekhar Rao-led Telangana Rashtra Samiti (TRS) and the Greater Hyderabad Municipal Corporation (GHMC) will celebrate the occasion in Hyderabad.
TRS is very excited, with its celebrations set to start from Sunday midnight. Media reports say that about 120 main junctions and roads in Hyderabad will be decked, and the TRS members will burst firecrackers all over the city, to welcome the birth of their new state.
It is understood that the party has specially ordered firecrackers and sweets from Mumbai, to celebrate the occasion.
TRS workers will celebrate the occasion on behalf of the party, and GHMC will conduct the festivities on behalf of the Telangana government as the new state government is set to take oath at 8.15 am on Monday.
Chandrasekhar Rao, popularly known as KCR, has decided to invite new Prime Minister Narendra Modi to the new state but not on 2 June. An exclusive function will be organised after a fortnight, and Modi will be invited to inaugurate the Telangana state.
KCR could not invite Modi for the 2 June swearing-in function as there is no Telangana state administration in place right now, media reports say. KCR will be sworn-in as the first Chief Minister of Telangana at Raj Bhavan. A cabinet of 12 to 15 ministers will also take oath along with KCR.
Andhra Pradesh Governor ESL Narasimhan will swear-in as the new Governor of Telangana at 6.15 am on Monday, and the Governor will later administer the oath of office to KCR as Chief Minister at 8.15 am.
President's rule to be ended in Telangana
The President's rule in Andhra Pradesh will be revoked in Telangana region on 2 June by the Governor, to pave way for Chandrasekhar Rao's swearing-in as the new CM.
Following N Kiran Kumar Reddy's resignation as Chief Minister protesting Parliament's decision to divide AP and thereby create Telangana, the President's rule was imposed in the state on 1 March.
Later, when elections were held to both Lok Sabha and the state Assembly in Andhra Pradesh, KCR-led TRS won majority seats in Telangana, while the TDP-BJP combine won majority in Seemandhra/residual Andhra Pradesh. TRS has a 63-seat majority in the 119-seat Telangana region.
While Seemandhra CM-designate N Chandrababu Naidu has met Modi and several Union ministers in Delhi and submitted the wish list of development projects, KCR is yet to meet the new PM.
It is understood that when KCR meets Modi, he will seek help from the Centre to write off farmer loans of upto Rs 1 lakh, two-bedroom houses for weaker sections and funds for the new state's irrigation projects.