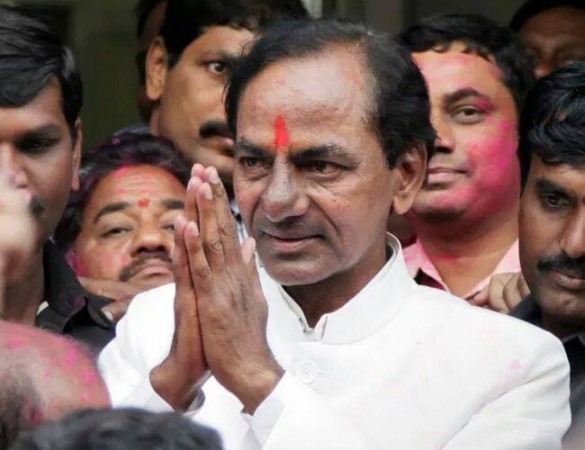 While farmers in the state are demanding immediate waiver of all farm loans, Telangana Chief Minister K Chandrasekhar Rao (KCR) on Thursday sought some time to implement crop loan waiver up to ₹1 lakh.
KCR cited staff crunch as the reason for the delay in the scheme's implementation.
During the election campaign, KCR had promised to write off farm loans up to ₹1 lakh. But the state's finance minister Eetela Rajender recently raised a flutter among farmers, by stating that the farm loan waiver scheme would apply only for crop loans taken during the 2013-14 year.
KCR was addressing the state Assembly during the Motion of Thanks to the Governor's address to the state legislature on Thursday. KCR said that his government is committed to crop loan waiver of up to ₹1 lakh. Telangana Rashtra Samiti (TRS) is committed to fulfil all promises listed in its election manifesto, he added.
However, KCR stressed the state has been facing shortage of officilas and staff. Currently, the state government has only 70 officers, allotted by the Centre. Since there is a dearth of officers, the government was unable to begin the implementation of the election promises, he told the House. The TRS chief urged the opposition parties in the legistature to give some more time to implement the poll promises.
KCR told the opposition parties in the House that they are trying to confuse the public, especially the farmer community, with their contradictory statements on crop loan waiver scheme. KCR added that the government was finalising the modalities for the scheme implementation in consultation with the bankers.
At one stage, the Chief Minister took the opposition parties to task for falsely attributing some promises, which were never made, to TRS. KCR pointed out that TRS had never promised to provide jobs to each family in the state but the opposition parties claimed he made the promise. Likewise, he stated that he had never promised waiving of loans pertaining to the Development of Women and Children in Rural Areas (DWCRA) scheme.
Padma Devender Reddy is Deputy Speaker of Telangana
Meanwhile, Padma Devender Reddy of TRS was unanimously elected the Deputy Speaker of Telangana on Thursday. While congratulating her, KCR said that Reddy had actively participated as an activist in the movement for Telanagana state. She has been elected as an MLA for the second time, he pointed out.
KCR thanks Sonia Gandhi
Continuing his speech on the Motion of Thanks to the Governor's address in the state legislature, KCR acknowledged that the achievement of Telangana state was possible due to the initiative of Congress president Sonia Gandhi. He expressed his heartfelt gratitude to Sonia and also thanked all 33 political parties in the country, who cooperated in the fulfilment of Telangana.