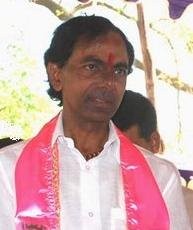 Telangana Rashtra Samiti (TRS) president K Chandrasekhar Rao (KCR), who is all set to take oath as the chief minister of new Telangana State on 2 June, resigned from his Medak Lok Sabha seat on Monday, 26 May.
KCR won the Gajwel Assembly seat as well Medak Lok Sabha seat in the last April-May elections. He will now retain Gajwel Assembly to become the State chief minister and relinquish the Lok Sabha seat. A candidate who wins two constituencies can retain only one as per the rules.
KCR submitted his resignation letter through party general secretary and senior leader K Keshava Rao and other party MPs, in New Delhi. Rao won the Medak Lok Sabha seat with a record margin of 3.97 lakh votes against Congress candidate Shravan Kumar Reddy. In Gajwel Assembly constituency, KCR defeated Telugu Desam Party's (TDP) V Pratap Reddy with a 19,218 votes of majority.
KCR is said to be fully engaged in the formation of his council of ministers, say media reports. The chief minister-designate is also said to be giving equal representation to all areas and all sections of the society in Telangana. Equal prominence is being given to senior leaders, who have won the Assembly seats in the last elections.
KCR will swear-in as the chief minister of Telangana with an 18-member council of ministers on 2 June at Raj Bhavan in Hyderabad. He was working on the appointments of bureaucrats for the new state in the last few days.
Meanwhile, the chief minister-elect has already reviewed development projects in Telangana region, especially irrigation projects. He held a meeting of retired engineers of Irrigation Department at Telangana Bhavan, the TRS headquarters, and reviewed all the pending projects.
The retired engineers have explained that 26 irrigations projects, with a capacity to provide water to cultivate 26 lakh acres of land, are pending and need at least ₹15,000 crore of funds. Later KCR instructed the officials in the Irrigation Department to strive to complete the pending projects within the next 50 days.
BJP's Dattatreya Ignored
Former Union Minister of State for Railways and senior leader of Bharatiya Janata Party (BJP) from Telangana, Bandaru Dattatreya, who won the Secunderabad Lok Sabha seat in the recent elections, has failed to get a berth in the Narendra Modi's Cabinet.
Dattatreya is one of the prominent leaders of BJP in south India. Telangana was represented by two union ministers-Bandaru Dattatreya and Ch Vidyasagar Rao in the last Atal Bihari Vajpayee-led NDA government. It was expected that Dattatreya will get a cabinet-rank ministry at the Centre, but he has been ignored for now.
However, two BJP leaders- Prakash Javadekar and Nirmala Sitaraman, who have indirect links with Telangana, have got berths in the central council of ministers. While Javadekar, who was party in-charge of Andhra Pradesh, bargained hard with TDP for an electoral alliance in Telangana region, Sitaraman is linked to the region as she has lived in Hyderabad for years and married to a noted journalist Parakala Prabhakar from the city.