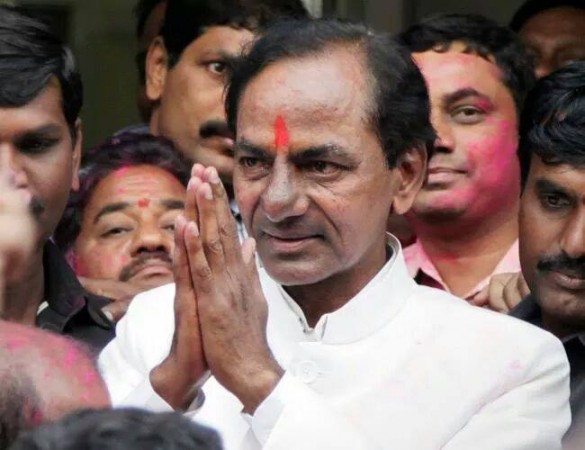 Telangana Chief Minister K Chandrasekhar Rao (KCR) met Prime Minister Narendra Modi on Saturday and sought special catergory status and financial assistance for the new state, to implement development programmes in backward districts.
This was KCR's first visit to Delhi as Chief Minister. During his two-day visit, KCR also met President Pranab Mukharjee and handed over a memorandum of demands.
The Telangana CM was accompanied by 11 MPs of his party Telangana Rashtra Samithi (TRS) during his 45-minute meeting with Modi. KCR submitted a list of 14 deamands to the Prime Minister of India, detailing the specific needs of Telangana.
KCR has requested Rs 15,000 crore fiscal aid for the development of national highways and road links to join the state's backward areas with major cities and towns.
Stating that eight districts in Telangana are categorised as backward under the Backward Region Grant Funds, KCR urged the Centre to grant special category status on par with Andhra Pradesh. The status was already promised to AP by the Union government, while passing the Andhra Pradesh Reorganistion Bill 2014 in the Parliament.
The National Development Council (NDC) is the authority that gives special status to states, considering their backwardness.
KCR's petition to the Prime Minister includes 14 major demands, pertaining to irrigation, power plants, infrastructure, universities and judiciary.
The TRS chief also urged Modi to etablish a separate High Court for the state, schemes for development of Hyderabad urban area, fiscal aid to conserve Musi River in the heart of Hyderabad and establishment of horticulture and tribal universities in the state.
KCR is also not happy with the Centre's ordinance to transfer seven mandals of Telangana's Khammam district in Bhadrachalam revenue division, which fall under the execution of Polavaram irrigation project in Andhra Pradesh.
TRS has been insisting the Centre to retain the seven mandals, involving 205 villages and tribal hamlets, with Telangana. Just a day ahead of KCR's anointment as CM, TRS had observed a total shutdown in the new state, protesting against the Centre's ordinance to transfer the seven mandals to AP.