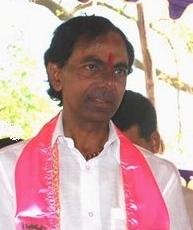 Kalvakuntla Chandrasekhar Rao (KCR) is going to take oath as the first Chief Minister of India's 29th state Telangana on 2 June. Sources close to the development revealed that KCR will take the oath at 12.55 pm to be precise, and many people will attend the programme.
The venue for KCR's oath taking ceremony is yet to be decided, but for now two places have been zeroed in, one is LB Stadium as it has huge open space. But keeping in view the hot summer, Telangana Rashtra Samiti (TRS) might hold the ceremony within the premises of Raj Bhavan.
Currently, KCR is said to be busy finalizing his cabinet ministers and bureaucrats for the new administration.
According to sources, there was a hot race for ministerial berths in TRS and three MLAs from Greater Hyderabad area are said to be lobbying for ministerial positions in KCR's ministry. TRS sources also said that the party leadership might give the post of Deputy Chief Minister to Mahmood Ali, an MLC from Hyderabad, to develop the party in the city.
T Padma Rao, an MLA from Secunderabad constituency and senior most MLA among the three TRS MLAs from Hyderabad, is likely to become a minister in KCR's government. Rao is said to be a loyalist to KCR.
Nayani Narasimha Reddy, who is considered a close aide of KCR, is likely to be given a key portfolio in KCR's cabinet of ministries. He may also be asked to contest from Medak Parliamentary seat, when KCR vacates it to become the CM of the new state.
Meanwhile, KCR has been invited by the new Prime Minister-elect for his oath taking ceremony in Delhi on 26 May and the former has decided to attend the function along with the party MPs.