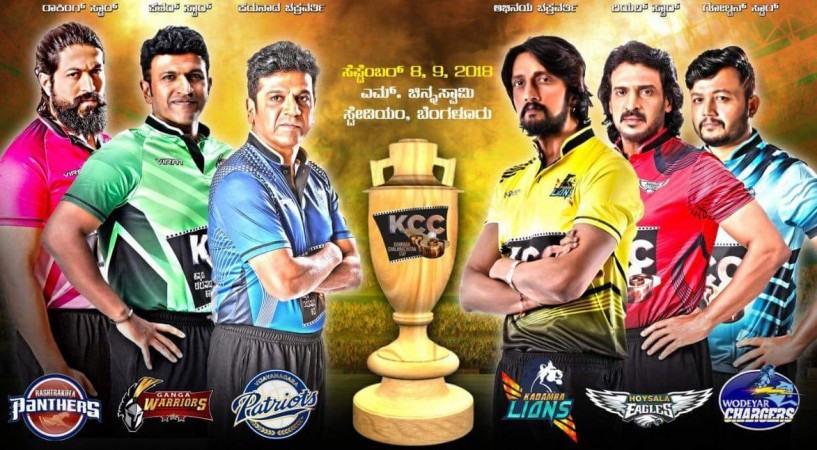 How much does a ticket cost to watch a cricket match at Bengaluru's M Chinnaswamy Stadium? What is the minimum price that Kannada audience shell out to enjoy a movie in theatres? The answer may be at least Rs 100 for a day of Test cricket and Rs 50 for a movie in cinema halls. But here is an occasion where people will just spend Rs 25 per day for a two-day tournament where they will get to see their favourite actors and cricket matches which will have the presence of some international cricketers.
Kannada Chalanachitra Cup has become bigger and better this time as the industry is set to organise a cricket tournament like never before. The encouraging part of the story is that the organisers are keeping bare minimum ticket fares to attract the audience.
Explaining the reason behind keeping the lowest possible price for the event, Sudeep says, "Without the audience's support Kannada film industry would not have seen any growth. So, we want them to come and enjoy the two-day of cricket. But the gates at the KSCA would not be opened for free....there are rules and regulations for it. Hence, we are charging just Rs 50 for two days and this is the best we can do."
The tickets for the event will be available at the KSCA Stadium and all the outlets of Sangeetha Mobiles along with the online ticket booking sites.
Notably, the industry is standing up for a noble cause again by deciding to donate the money collected from ticket sales of the Kannada Chalanachitra Cup for Kodagu flood relief.
Kiccha Sudeep states that the industry has taken the tournament seriously and dedicated 10 days for the practise sessions alone. The KCC 2 will be professionally covered by the crew who have worked with Star Sports and other big tournaments.
The second season of Kannada Chalanachitra Cup will be played among six teams – Wodeyar Chargers (Captain Ganesh), Kadamba Lions (Captain: Sudeep), Rashtrakuta Panthers(Captain: Yash), Vijayanagara Patriots(Captain: Shivaraj Kumar), Hoyasala Eagles (Captain: Upendra) and Ganga Warriors (Captain: Puneeth Rajkumar).