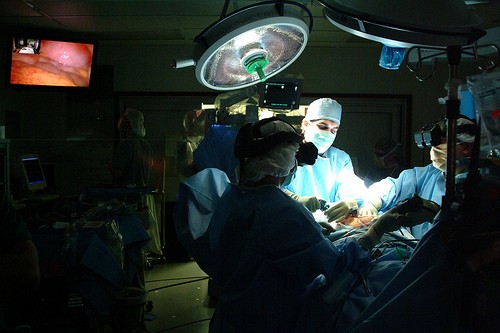 A Kazakh woman left disfigured after undergoing radiation treatment for cancer she never had was operated on Monday, 23 June 2014 in Kentucky hoping to reconstruct her face and confidence.
Lessya Kotelevskaya, 30, underwent a free million-dollar, 24-hour operation by a surgeon at the University of Louisville Hospital.
Kotelevskaya has waited for the day for many years and just want to be a normal person, said Oleg Sennik, Kotelevskaya's cousin, who brought Kotelevskaya and her young son to Louisville last year to Ydr.com.
"We will make sure Lessya does not incur any personal hospital charges from her surgery. It's mind-boggling. I can't even put it together how grateful we are." ABC News quoted Kotelevskaya's cousin, Greg Sennik.
Kotelevskaya was diagnosed with jaw cancer a decade ago when she was accidentally hit in her jaw during a basket ball game, which led her face swollen.
Doctors assumed the swelling as a result of a cancerous tumor and treated her with radiation therapy. The therapy eventually made a hole in her right cheek, thus disabling her from eating and talking, according to her US doctors.
After years of suffering and undergoing radiation treatment, she was then taken to Ukraine, where doctors identified that she had no cancer.
Kotelevskaya dropped to 79 pounds when she met her lost cousin Sennik. She drinks protein shakes and consumes vitamins to supplement whatever amounts of solid food she eats and now weighs 122 pounds, said Sennik
"We have a lot of patients with this problem, but this is about as bad as it gets. She pulls food apart and jams it behind her teeth and it leaks out the other side. She has gotten really innovative dealing with it," said Jarrod Little, a reconstructive surgeon from University of Louisville Physicians to ABC News at a press conference.
Two preliminary surgeries were conducted earlier by doctors at the Louisville Hospital to widen Kotelevskaya's skin around the jaw inorder to reconstruct her face. The procedure for the latest surgery, included removal of a leg bone to be transformed into a new jawbone.
"She probably had a benign cyst on the jawbone, which a lot of people have, where the bone is weak. Someone fell on her and when her jaw cracked, they saw the cyst and did a biopsy to see if it was cancer. If you don't see this often or a pathologist doesn't know it, very often it can be mistaken for cancer under the microscope." said Little.