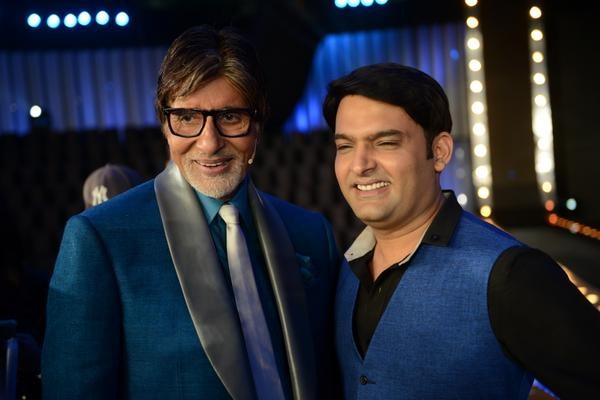 Amitabh Bachchan, with his incredible talent and massive fan following, has yet again proved that there is no greater film personality than him.
Bachchan's "Kaun Banega Crorepati" (KBC) Season 8, saw a packed audience in a Surat stadium. Host of the night, Kapil Sharma, was at his witty best and charmed the viewers with his sharpness.
From naach-gaana to hilarious gags, the event was an entertaining one from start to finish. Singer Neeti Mohan's mellifluous rendition lifted the mood and Meiyang Chang entertained the audience with his peppy numbers.
Sharma toured the arena asking questions, distributing prizes and Big B announced that no one would return home empty-handed. Since it wasn't feasible to gift each one present, the senior actor added that many would go back home with memories worth cherishing.
First contestant, businesswoman Deepa Jagtiani, won ₹6,40,000 at the launch. She reportedly made an impressive start but ended up using all her lifelines.
The second contestant, who won ₹10,000, was a victim of one of Sharma's mischievous acts. While Big B began looking frantically for the participant's lost cheque, Abhijeet and Daya (the "C.I.D" gang) brought onto the stage a hand-cuffed Sharma who had escaped with it.
When asked if he was 'anxious' about the new season, the 71-year-old actor told Times of India, "An artist, a creative individual, is always apprehensive. And that's the way it should be. Nothing and nobody is perfect, but apprehension brings in the endeavour to try to make it so."
Since, this was the first time "KBC" has stepped out of its iconic set and aspired to do something at a grander level, the reaction was too inexplicable. "The entire designing, execution and management of this massive exercise was simply incredible. The shooting of the episode live has been tough, as would any other shooting. But seeing and being a part of this path-breaking moment has been an absolute delight," Big B added.
Started in 2000, "KBC" is an adaptation of the UK game show "Who Wants to be a Millionaire?" This year, the makers of the show have focused on peace and religious bonding. The tag line has been very interestingly put as "Yahan sirf paise nahi dil bhi jeete jate hain" (Not just money, hearts are won here too).