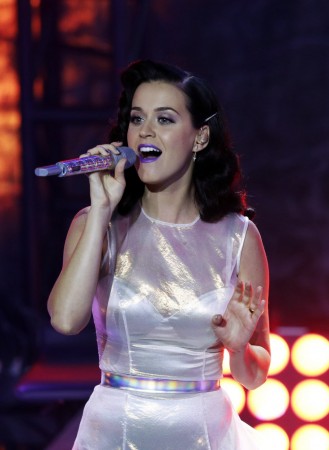 Katy Perry overtook Justin Bieber over the weekend to become the most followed person on Twitter. The "Roar" singer currently has 46.48 million followers compared to Bieber's 46.47 million.
Justin Bieber ruled Twitter up until this weekend. Over the weekend, "Roar" singer Katy Perry took over the reins, becoming the most followed person on the microblogging site. Perry now has 46.48 million followers compared to Bieber's 46.47 million.
Bieber has had the most number of followers since January when he overtook Lady Gaga. At that time, the "Baby" singer had a little more than 33.3 million followers. He reached the 40 million mark earlier this June. Perry is also beating the 19-year-old "Boyfriend" singer on Facebook, boasting 59.26 million friends to Bieber's 57.28 million.
According to Shea Bennett from the All Twitter news blog, Perry just might become the first person to have 50 million followers on Twitter.
"Bieber has been quite active on his profile as he's on tour in Brazil, but Perry hasn't tweeted since October, so expect a little more action once she gets back on the train," she told BBC News.
Lady Gaga had the most number of followers on the microblogging site since 2010, after taking over Britney Spears. Gaga was also the first individual to reach the 10 million mark and the 20 million mark as well as the 30 million mark. She continues to be the Queen of Facebook with 54.98 million 'likes', compared to Justin Bieber's 50.66 million.
Owing to the fact that Perry is adding followers so fast, Bieber fans have raised questions on the authenticity of these followers, claiming most of them are fake. The "Beliebers," however, should think twice before making such accusations considering similar fingers were being pointed at them earlier this year.
The website Socialbakers published a report suggesting only 47 percent of Bieber's followers were real and linked to real twitter accounts. The company spots fake accounts by looking at the number of followers and seeing if genuine tweets have been posted, rather than spam.