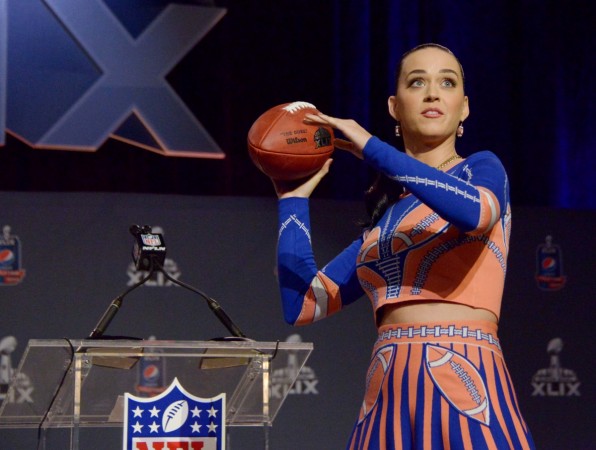 Katy Perry's "wild" Super Bowl halftime performance is going to feature a number of costume changes during the 12-minutes she will be on stage, and many believe she is risking a wardrobe malfunction with multiple costume changes.
Perry spoke about her performance and her dress at the Pepsi Super Bowl XLIX Halftime Show Press Conference on 29 January in Phoenix where she revealed that her entrance and her exit are two of the highlights.
"It's going to be wild out there. I'm creating three of four different worlds," Perry said, according to HollywoodLife. "My entrance and exit are spectacular, the costumes are great, the music, I have a lot of songs to cover so there will be some medley of sorts. I've done lots of fittings, my motivation and objective is for people to be talking about the music the next day."
She also described her costumes as "flaming hot" and "colorful" and a source told the media outlet that Perry has made sure that she doesn't spill out of her clothes.
"All Katy's clothing is cute, colorful and contained. Nothing is falling out at all. She has the goods on lock down," the source said.
Almost 11 years back, the Super Bowl halftime show had set the stage for one of the worst wardrobe malfunctions, which has Justin Timberlake pulling off a piece of Janet Jackson's bodice, exposing the singer's breast. This resulted in the Federal Communications Commission receiving more than 540,000 indecency complaints, prompting Jackson to issue an apology.
Taking responsibility for the act, Jackson said via a video: "My decision to change the Super Bowl performance was made after the final rehearsal. MTV, CBS [and] the NFL had no knowledge of this whatsoever and unfortunately, the whole thing went wrong in the end. I am really sorry if I offended anyone. That was truly not my intention."
Timberlake, too, spoke about the incident at the 2004 Grammys noting that was happened was unintentional and completely regrettable.