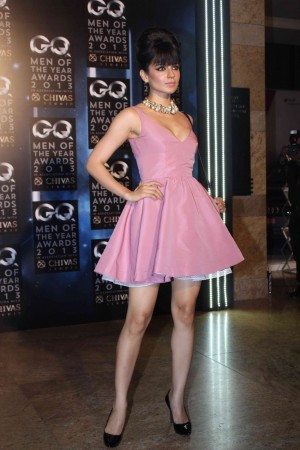 'Queen' of Bollywood, Kangana Ranaut, is set to be paired opposite Imran Khan for the first time in Nikhil Advani's "Katti Batti," a unique love story about modern-age relationships.
Ranaut's bold and gutsy personality gave her the role to play the character of Payal, who is a fine arts student and confused about her career. Initially it was rumored that Ileana D'Cruz had been finalized for the role.
"We were talking to several people one of whom was Ileana. But as the script shaped up, we felt Kangana's quirky personality would bring this eccentric character to life," The Times of India quoted Advani.
The movie starring Khan and Ranaut as Maddy and Payal is being produced by UTV Motion Pictures. "It is a beautiful story woven around the battle of the sexes. It will change the perspective of love stories in Bollywood," Ranaut told the daily.
Talking about the movie Siddharth Roy Kapur (Managing Director, Disney India) told TOI, "Katti Batti is a love story steeped in the culture and language of today's relationships. We wanted to ensure that the script gets the right director and a cast that can justify the two real, funny and layered lead characters. We are thrilled to have Nikhil, Imran and Kangana on board."
After ruling the box office with "Queen", the actor was recently seen on the Anupam Kher Show "Kuch Bhi Ho Sakta," where viewers saw a different side of her. She said that her life's turning point was when actor Chitrangada Singh didn't take up the role in "Gangster" (2006). As a result, she got her debut in the film, which garnered much appreciation and multiple awards.
The Himachal girl also talked about her family's disapproval regarding her choice of career. She said her father asked her to stop using his surname as it would bring disgrace to the family. She also spoke about how she was shunned in the industry for a while because of her poor English.
Ranaut, who has struggled a lot to achieve a successful position in Bollywood as well as in her own life, has now become one of the most sought after actresses.