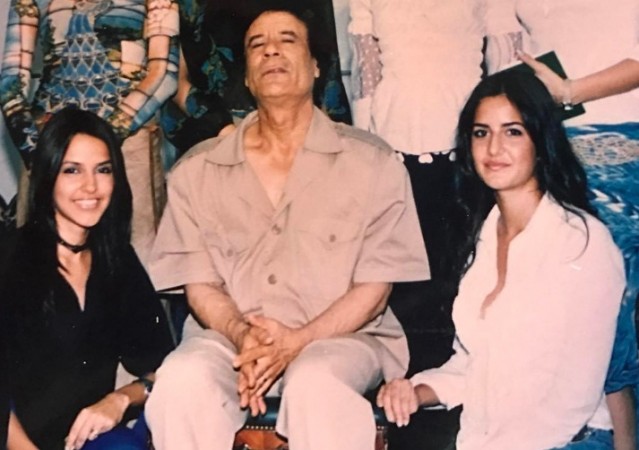 A throwback photo of Katrina Kaif along with Neha Dhupia has been going viral on social media. The 15-year-old picture shows the ladies posing with late Libyan dictator Muammar Gaddafi.
Model Shamita Singha shared the throwback photo on Instagram that shows Gaddafi sitting in the middle flanked by Katrina and Neha. Others in the frame are Shamita, Aditi Govitrikar and Aanchal Kumar.
The ladies were in Libya for a fashion show when the picture was clicked. Shamita shared the photo with the caption reading, "Almost 15 years ago when we all were in Libya for a fashion show and had the privilege of meeting the man Mr. Gaddafi himself! Girls! Remember this trip??"
While this photo is going viral on social media, many have been slamming Shamita for calling it a privilege to pose with Gaddafi, who is considered to be one of the cruellest dictators in history.
The post received several comments, many of which are abusive in nature. Some called Shamita "stupid" for sharing this picture and feeling proud about meeting Gaddafi. She tagged Katrina, Neha and two other divas in the post but none of them responded to it till now.
Although it might have been a pleasant moment for Katrina to pose with the Libyan dictator at that time, she might not be very pleased to see this photo now going viral on social media. Before making a big name in Bollywood, Katrina used to do modelling. She had made her debut in Hindi with Boom.