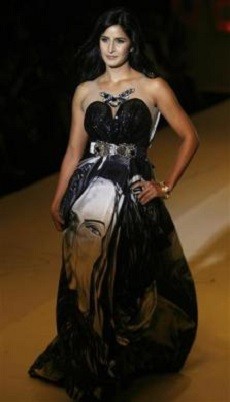 Bollywood actress Katrina Kaif, who is upset and furious with the media for publishing pictures of her along with alleged boyfriend Ranbir Kapoor while they were holidaying in Spain, issued an open letter to the press stating they have invaded into her personal space.
In the statement issued, Katrina said that the pictures were clicked by some stranger without her permission and then used those pictures for commercial profit. She also blamed a section of media for crossing the limit of decency.
The pictures of Ranbir and a bikini-clad Katrina surfaced in several publications that confirmed that the actors were romatically involved. This was then followed by photos of them hanging out in a coffee shop in Sri Lanka where Ranbir had to shoot for his upcoming film "Bombay Velvet".
After the photos were leaked Ranbir's parents were miffed and expressed their anger over his personal life going public. "Ranbir's parents have never reacted very well to news about their son's dalliances. They feel this will affect his professional life," Mid-Day quoted a source as saying.
Read the full statement issued by Katrina:
"I am writing this to say that I feel most upset, distressed and invaded at my pictures published in a film magazine (and which were carried by other media). The pictures were taken while I was on holiday by someone who, in an act of cowardice, has shot without permission and then used the pictures for commercial gain.
There is a breed of journalism that preys on celebrities in the worst possible manner crossing all lines of privacy and decency. Running these pictures shows support for this school of journalism.
I request that all media running these pictures please refrain from doing so. I have a wonderful relationship with the media and have been accessible to the media at all times. There is no reason for this furtive and invasive behaviour."