Katrina Kaif was recently seen wearing red 'alta', many called it mehendi, on her hands and feet, which made fans curious. After flaunting her alta-painted hands on Instagram, the actress
was spotted sporting it on her feet as well at Ali Abbas Zafar's birthday bash.
Katrina's alta-painted hands and feet have made many of her fans think that the actress might make a major announcement with regard to her marriage. However, it appears that her new traditional style is for the movie Thugs of Hindostan.
The actress might have been shooting for a wedding sequence in Thugs of Hindostan, and for that she must have worn alta on her hands and feet. Indian women wear red alta at traditional weddings and festivals.
Katrina herself shared a picture from the sets of the film on Instagram that suggests that a wedding sequence was recently filmed.
Hence, in all probability, the mystery behind Katrina's alta-clad avatar is in connection to Thugs of Hindostan, and has no link to her private life.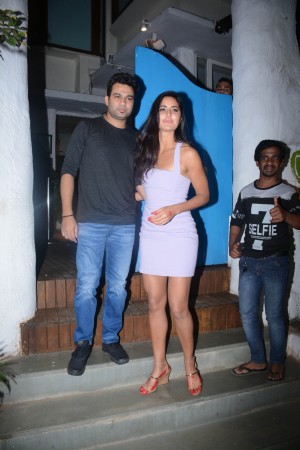 Meanwhile, Katrina attended the birthday bash of her Tiger Zinda Hai director Ali recently. She posed for the shutterbugs very happily and looked gorgeous as always.
It was attended by Varun Dhawan and Arjun Kapoor as well. Katrina shared an adorable click from the party on Instagram, in which she is seen being hugged by Varun and Arjun. While the picture is lovely, there is another interesting aspect in it.
Katrina had some time ago revealed on Koffee With Karan that Varun and Arjun had once created a "hate club" in the name of Katrina.
Apparently, Varun had created an "I hate Katrina Kaif" club after he had received some backlash from Salman Khan for once checking out Katrina on a bandstand in Mumbai. Interestingly, Arjun too had joined the club later, as was revealed by the actress on the chat show.
However, looks like all these were done in a jest, as Katrina shared the picture on Instagram remembering the same hate club. "Boys 15 years with these ones ...... from hate club .... to I think more love and maturity now bet I made u feel old @varundvn and @arjunkapoor [sic," she captioned it.