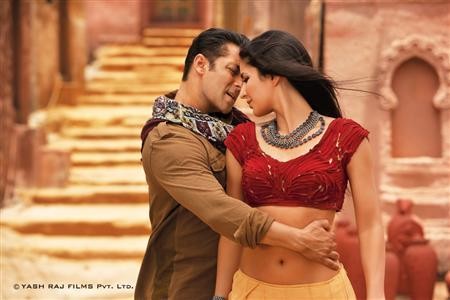 Though, Katrina Kaif and Salman Khan are just friends now, their fans still believe the actress is a perfect match for Bollywood's most famous bachelor.
According to a survey conducted by matrimonial site Shaadi.com, Bollywoood diva Katrina Kaif has topped the list of ideal partners for hot-favourite Salman Khan.
The Indian matrimonial website surveyed around 21,000 respondents and 69.84 percent people believed that the 28-year-old actress would make an ideal wife for Salman, according to the IANS.
Another survey carried on the "Dabangg" star revealed that 62 percent of Indian men don't want Bollywood's most eligible bachelor to get married, while 60.37 percent women want Salman to settle down.
Although Katrina tops the list, other female celebrities are also featured in the list.
While Salman's fans from the south believe that his "Dabangg" co-star Sonakshi Sinha would be a perfect match for him as a partner, north Indians recommend "Khiladi 786" star Asin Thottumkal as his better-half in real life.
"Most individuals associate themselves with a celebrity at some point in their life. Through the poll, we wanted to understand how an icon's lifestyle influences people's views and choices during partner search," an IANS report quoted Gourav Rakshit, chief operating officer, Shaadi.com as saying.
Salman's marriage is a hot-topic in Bollywood. Finally, the actor has put an end to all speculations saying that he will settle down soon after the Jodhpur and Mumbai Courts give out their verdicts in the blackbuck and vehicle mishap cases against him.
The first case dates back to 1999 that was filed following the killing of a blackbuck during shooting of the flick, "Hum Saath Saath Hain" and the second case pertains to a vehicle mishap incident 2002 that resulted in death of a person.