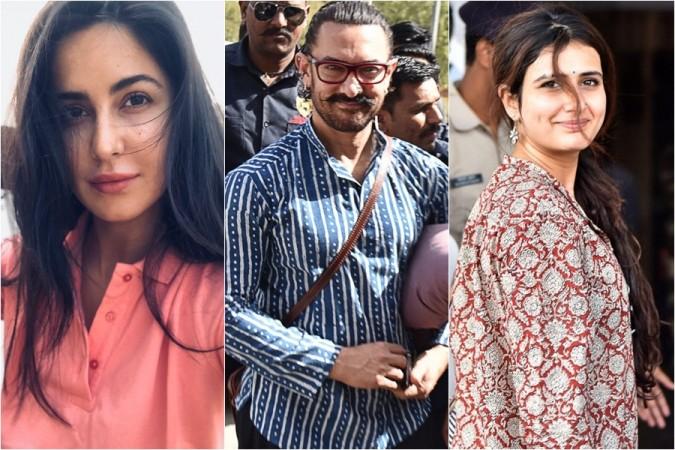 Dangal actress Fatima Sana Shaikh's growing closeness with Aamir Khan is apparently making Katrina Kaif insecure about her role in their upcoming film Thugs Of Hindostan.
"The heroines never had much to do in this plot. It was always Aamir Khan and Mr. Bachchan's film. Katrina decided to come on board because of her longstanding relationship with Yash Raj Films and Aditya Chopra. But seeing the rapidly-developing friendship between Aamir and Fatima, Katrina is somewhat perturbed," a source close to the film was quoted as saying by Deccan Chronicle.
Earlier it was reported that Katrina was upset with Aamir Khan for telling the media that she has a shorter role compared to his Dangal co-star Fatima Sana Shaikh in the film.
"She is also there but you know in all fairness I don't know if I can call it a lead role. I mean she has got two songs out of three. So, in that sense she has got an important part. The story is about this girl played by Fatima. She is playing the central role," Aamir earlier was quoted as saying by Bollywood Hungama.
While reports of Katrina being sidelined as just another glamourous girl and Fatima taking charge as the lead actress in the film had started doing the rounds of the tinsel town after Aamir's controversial statement, the Tiger Zinda Hai actress decided to clear the air between her, Fatima and Aamir.
"All this doesn't matter. Let's stop trying to find ways to create some sort of drama when there's none. Everyone in the film is more than happy to be part of a project like this — whether it's Aamir, Amitabh Bachchan, Fatima or me. All of us are excited and working together," Katrina told DNA in an interview.
She added, "It's Aamir and Victor's film and whatever information they want to reveal, at whatever time they feel is correct, I leave it to them. It's entirely their call and that's how the production house works. It's too monotonous for me to try and add to the drama."
The actress was later seen posing with Fatima and Aamir for a selfie while sweating it out for a dance sequence reportedly for the title song of the film. But now it looks like it was all done for damage control.
Perturbed by Fatima-Aamir's growing proximity, Katrina recently met Aditya Chopra and shared her apprehensions about her role in the film. Following their discussion, Aditya has reportedly assured Katrina that her role won't get toyed around.
We wonder whether Aditya's promise will bring peace to Katrina. Let's wait and watch.