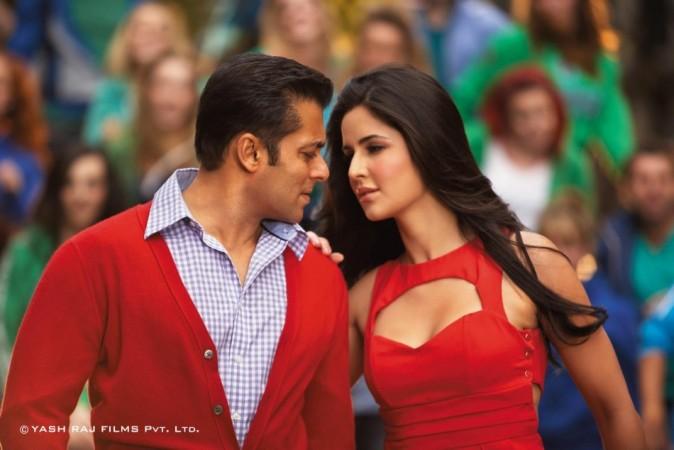 While Salman Khan has managed to crack everyone up with his "Katrina Kapoor" joke at sister Arpita Khan's wedding, ex-girlfriend Katrina Kaif is reportedly miffed with the fun people are having at the expense of her personal life.
According to a Miss Malini report, the "Bang Bang" actress didn't take Salman's comment too lightly and is apparently not okay with the video of the incident doing the rounds on web.
"She's also irritated Karan Johar didn't take her side and was actually enjoying the joke later with others. However, Arpita herself personally went to Kat and asked her to take the comment in good humor and not get affected by it. But since the video clip made its way online and many people have seen it, Kat felt the situation got worse," stated a report on MM.
The "Kick" star, who is known for his inimitable wit and charm, called Kaif on stage to join him on "Chikni Chameli" song. When she refused to do so, the star then requested Karan Johar to get to her to match steps with him.
"Karan please come here, and bring Katrina Kaif on stage. Ok fine, not Katrina Kaif. Katrina Kapoor, please come on stage!" Bollywood Life quoted the "Kick" star who then added, "Mai kya karoon... I gave you a chance to become Katrina Khan, but you chose to be 'Katrina Kapoor'!"
This remark, made in jest and good spirit, left Kaif unsettled, but she reportedly took it in a brave manner. Interestingly, there's been a strong buzz that the actress' alleged beau Ranbir Kapoor too didn't get miffed and accepted the joke the way it was meant.
Salman, who is simultaneously shooting for Sooraj Barjatya's "Prem Ratan Dhan Payo" and Kabir Khan's "Bajrangi Bhaijaan", intends to take a break after finishing the projects at hand. Whereas, Kaif, will have a busy year ahead with Anurag Basu's "Jagaa Jasoos" and Kabir's "Phantom".