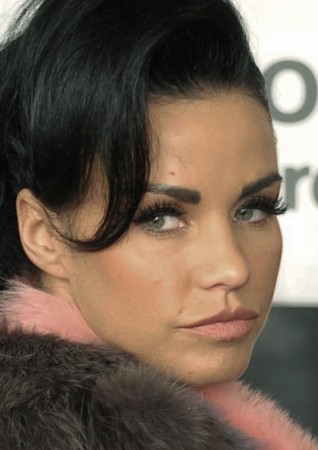 "Endless Love" singer Katie Price has posted a picture of herself after the latest boob job she got done in Belgium last week.
This is the seventh time the 36-year-old went under the surgeon's knife. This time it was for a breast reduction surgery.
Her drastically smaller cleavage is visible in the new selfie that she posted on YouGossip, which is a charity photo-sharing website. She also revealed her "absolute" love for her new breasts.
In the picture, the glamorous model is seen wearing a sweater but still one can make out that her breasts are way smaller. Along with the picture, she wrote: "Absolute love my new boobs... So now I can shoot my new calendar with new boobs," Daily Mail reports.
Price underwent the surgery to reduce her breast size by five cup sizes, i.e. from 34FF to what looks like what was her original size – 32Bs. She had told her friends before opting for the surgery that she wanted "to be taken more seriously."
Apart from the selfie that she posted, she was also snapped while leaving a photography studio with her slim and almost unrecognisable figure. It can be expected that her male as well as female fans, who are used to seeing her swelled chest for years, will be shocked to see her new look.
A friend of Price's said: "She was fed up of constantly having to have her clothes made to measure and has wanted to be able to buy high street clothes without hassle for years...For a long time Katie has felt she was more recognisable for her breasts than anything else but she wants to shake that image off a little. She's also a serious ­businesswoman and ­entrepreneur. She felt the boobs were holding her back a bit from that image. On top of that, her ­pregnancies and childbirth had begun to have an impact on them. The time was just right," Mirror reports.
The British novelist got her first implant at the age of 19 in 1998. At that time she went under the knife to enlarge her breasts from 32B to 32D.
Just a year later, she underwent a second operation to increase the size to 32DD. In 2000, the third surgery was to get silicone implants to boost her size to G cup and the fourth operation that took place in Los Angeles, was to increase her size to 32GG.
By that time Price was a successful business woman and went on to star in a Reality television show. She defended herself saying she didn't feel as sexy as other actresses and that is why she continued getting implants.
Later, the mother-of-five flaunted her huge breasts and in one instance said: "I'm famous for my t*ts."
The rest of her surgeries were done to reduce the size of her breasts.