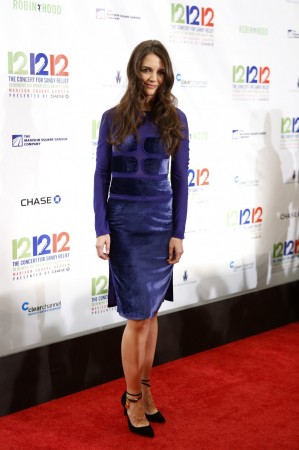 Katie Holmes has finally joined Twitter. The actress sent out her first tweet from South Africa.
Nearly all top celebrities have taken to social networking sites in the last few years. Holmes was one of the few who did not use social networking to get in touch with fans. However, the actress has now joined Twitter, under the user name KatieHolmes212.
Within a few hours of joining Twitter, Holmes had over 14,000 followers who were more than happy to see the actress-turned-designer join the micro-blogging site. As her first post, Holmes re-tweeted a pic of herself with Taylor Swift, Jeff Bridges and Cameron Monaghan. She then posted another tweet expressing how excited she was to be on Twitter and that she's joined the site from South Africa.
"So happy to be on twitter!!!!!!" she wrote under the verified handle @KatieHolmes212. "Sending first tweets from South Africa!!!!!"
Holmes is currently in Cape Town shooting for her upcoming film "Giver." Judging from Holmes' Friday tweet, seems that the entire cast is having the time of their lives.
"On set today filming the Giver. Love working with director Phil Noyce am so grateful for such a wonderful experience," Holmes tweeted Friday evening.
In June last year, Holmes ended her five-year marriage with Tom Cruise. Though the actress was struggling with her new designer career initially, she revealed she was more than happy to be single and be a single mother to Suri, the couple's daughter. Immediately after her split, Holmes was linked to quite a few men including attorney Jonathan Wolfe and good friend Chris Klein.